FlexEdge Secure SD-WAN 7.1 Release
In today's cloud-first environment, business resources are distributed across multiple locations, and with remote and hybrid work here to stay, organizations require a reliable, simple, and secure way to connect their distributed workforce to critical applications and data they need to stay productive. However, traditional wide area network (WAN) infrastructure often struggles to keep up with this demand, leading to a decrease in productivity and high network costs.
Organizations have turned to SD-WAN to solve these challenges, and it is a foundational component of the Secure Access Service Edge (SASE) framework, which enables secure and reliable connections between users and resources hosted in the cloud. 
To further support customers in boosting productivity and reducing security risks, we are excited to announce the general availability of FlexEdge Secure SD-WAN 7.1. This release brings a range of enhancements designed to increase application performance and increase security for organizations worldwide. 

Stay informed with Application Health Monitoring 
We have enhanced our popular Application Health Monitoring dashboard to provide advanced monitoring support for applications leveraging User Datagram Protocol (UDP), such as Microsoft Teams and Zoom. This enhancement gives administrators greater flexibility in defining application monitoring methods and ensures network resources are provisioned for VoIP apps to achieve optimal performance. Moreover, the upgraded dashboard offers a comprehensive overview of the application's health history, enabling administrators to compare its performance against established long-term quality metrics.  
To proactively manage application health, administrators can set up alert triggers to notify them of any deviations from expected performance. They also gain greater control over link selection preferences through the ISP link monitoring enhancement. The introduction of a new dark mode enhances visualization and improves data observation, with vivid colors, lines, and data points that make it easier for administrators to identify trends, and outliers within graphs and charts. Furthermore, administrators can conveniently access connectivity logs directly from the dashboard, facilitating drilldown in-depth analysis and troubleshooting. Collectively, these features empower administrators to closely monitor and optimize the performance of applications, ensuring a seamless and reliable user experience.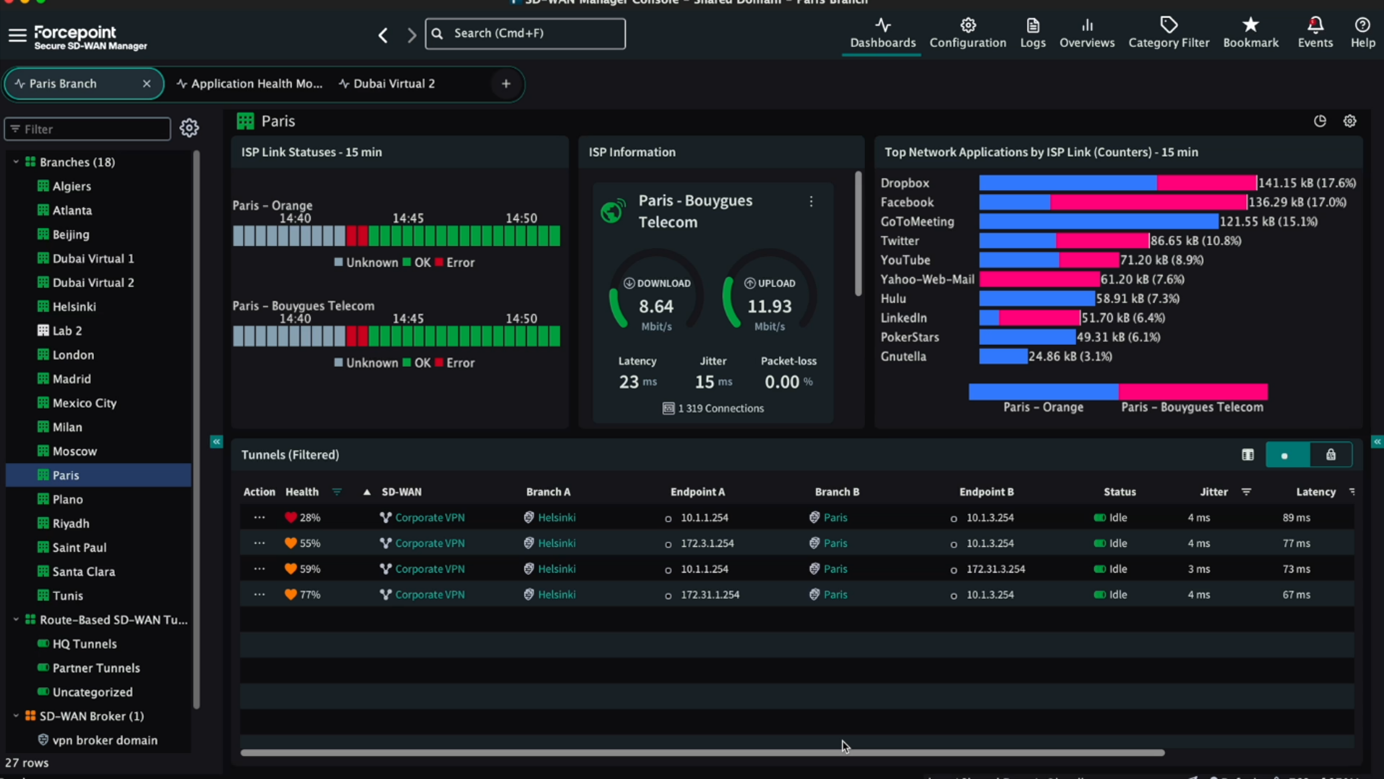 Increase application performance 
As organizations struggle with application performance, API Traffic Steering becomes a powerful feature for administrators. While our Secure SD-WAN solution already provides dynamic application steering and automatic failover link selection in milliseconds. API Traffic Steering is designed to direct cloud application traffic towards the most optimal path at runtime, providing enhanced application performance and improved responsiveness. By strategically directing traffic through optimized routes, administrators gain greater flexibility in managing and configuring movable IP addresses on a per-access rule basis. Unlike other configurations, the "Forced Next Hop" steering is not limited to a specific tunnel or port. API Traffic Steering can also enable organizations to leverage and integrate with Cloud On-Ramp providers, increasing the benefits of cloud connectivity.  
 
Block access to malicious domains  
Last but certainly not least, DNS sinkholing offers increased security capability. This advanced network security feature blocks access to known malicious sites and non-existent IP addresses, providing a powerful defense against data breaches, malware infections, and various cyber-attacks. By preventing access to malicious destinations, DNS sinkholing significantly reduces the risk of compromising sensitive information and ensures the integrity of your network. Furthermore, this capability acts as a proactive measure against command and control (C2) access and second-stage malware downloads, effectively disrupting the communication between infected endpoints and attackers. By impeding these malicious activities, DNS sinkholing plays a crucial role in mitigating the impact of cyber-attacks and increases overall network security. 
FlexEdge Secure SD-WAN is a foundational component of a SASE framework that provides consistent security policies and enforcement across hybrid cloud environments. FlexEdge Secure SD-WAN integrates with Forcepoint SSE capabilities CASB and ZTNA to provide secure access to applications and data from any location, and Forcepoint SWG provides protection against web-based threats. Additionally, our integration with Advanced Threat Protection capabilities, such as our Remote Browser Isolation and sandbox solution, Advanced Malware Detection and Protection (AMDP) provides multiple layers of security to ensure safe access to web applications and sites. 
SD-WAN provides secure connectivity between users and the resources they need to stay productive, regardless of their location or where the resources are located. To learn more on how we can enhance your network infrastructure visit our Secure SD-WAN product page. 
About Forcepoint
Forcepoint is the leading user and data protection cybersecurity company, entrusted to safeguard organizations while driving digital transformation and growth. Our solutions adapt in real-time to how people interact with data, providing secure access while enabling employees to create value.