Forcepoint Announces Industry's First Smart RBI
Now with Smart Isolation that automatically balances security and performance to free you from the worry of making the wrong decision
Today we reached general availability and are excited to bring the industry's first smart RBI to Forcepoint customers.  Remote Browser Isolation (RBI) enforces Zero Trust security for web browsing.  Other web security technologies rely on first being able to detect malware, and then respond by blocking malicious content. In contrast, RBI applies a Zero Trust approach by treating all web pages as compromised from the outset. 
If we have to rely on perfect foreknowledge of every form that malware could take we are starting off in an impossible position that makes policy creation an ulcer-inducing task.  However, RBI offers an easier way by remotely rendering content in an isolated browser and streaming the session back to the user fully sanitized, and in a way that looks just like a normal browsing session.  The one potential drawback is that this ultimate assurance mode of rendering web pages can eat up bandwidth for activity like scrolling through text heavy pages or viewing video content.  There is another mode of RBI that remotely strips out active content and sends the necessary HTML code to be rendered locally, which enables a fast user experience that is indistinguishable from normal, native web browsing. 
It's like wearing the appropriate gear for a contact sport, you need enough to mitigate the risks, but also balanced with performance; we wouldn't wear football pads to play basketball for example.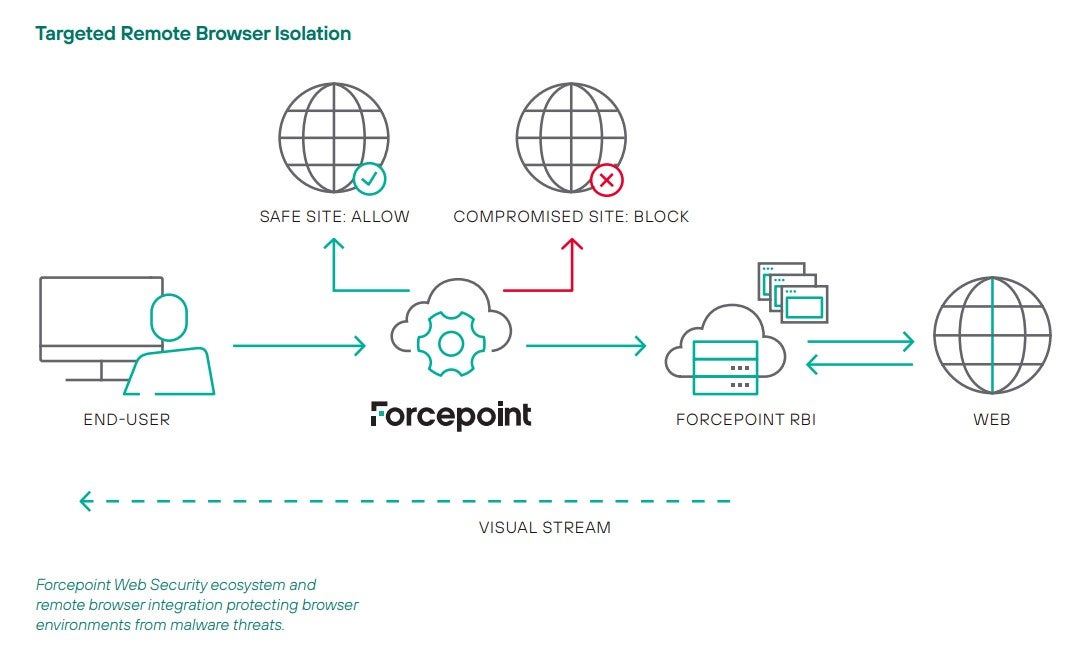 The hard part about web security is knowing which types of pages are more like a high contact sport and which are less risky, after all that is what the hackers are doing every day; working to make dangerous sites look just like normal, safe ones.  RBI gives us two modes necessary to deal with all the ultra-risky sites as well as the unknown or potentially risky ones, but choosing when to use which mode for each combination of web category and user group can cause anxiety in its own right.
This is why Forcepoint created Smart Isolation, to automatically adjust between the two rendering modes based on potential risk or verified trust of the page and associated content.  Forcepoint is an expert in threat intelligence, so let us do the hard work of determining how to blend high assurance security and fast performance so you can focus on more strategic efforts.
The balance between high assurance security and performance does not stop with Smart Isolation though.  Forcepoint RBI also introduces the industry's first integration of RBI with Zero Trust Content Disarm and Reconstruction (CDR) technology to apply a Zero Trust approach for downloading files in an RBI session.  With these Forcepoint innovations, organizations can have confidence that their users will always have the perfect balance of performance and high assurance security as they browse the web and download files. 
Additional Resources:
About Forcepoint
Forcepoint is the leading user and data protection cybersecurity company, entrusted to safeguard organizations while driving digital transformation and growth. Our solutions adapt in real-time to how people interact with data, providing secure access while enabling employees to create value.