Forcepoint DLP (formerly TRITON AP-DATA)
Gain The Visibility And Data Controls To Keep Critical Data Secure
"The relationship between Kootenai Health and Forcepoint is only going to grow. I'm really impressed with the capabilities and level of protection the solution provides. I'm a Forcepoint customer because I choose to be. I don't know of another solution that does the job better."
Michael Meline
Unrivaled visibility and control over your data wherever it lives—in the office, on the road or in the cloud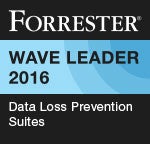 Global brands and market innovators use Forcepoint DLP to protect their business-critical, sensitive data against malicious insiders, compromised users and accidental data loss.
Forcepoint DLP is instrumental for organizations with an obligation to meet regulatory and industry compliance requirements, including the EU General Data Protection Regulation (GDPR). Consistently recognized as a market leader, Forcepoint DLP features in multiple analyst reports, including the Gartner 2017 Magic Quadrant for Enterprise Data Loss Prevention, Gartner Critical Capabilities for Enterprise Data Loss Prevention and The Forrester Wave: Data Loss Prevention Suites.
DLP Discover: Understand where critical business IP and personal data exists at rest across your organization to gain visibility into your digital attack surface, and implement data controls to address regulations such as the EU General Data Protection Regulation (GDPR).

DLP Endpoint: Protect data in use both on and off the corporate network with PreciseID data fingerprinting on Apple macOS and Microsoft Windows systems. Enable secure data sharing with trusted partners using integrated policy-based file encryption for removable storage devices.

DLP Cloud Applications: Gain visibility and control over file uploads, document sharing and data at rest across popular enterprise cloud applications, including Box and Microsoft Office 365.

DLP Network: Protect email and web communications with Forcepoint Web and Email Security integrated DLP, or the Protector DLP appliance to integrate with 3rd party web and email infrastructure. Prevent business email containing sensitive data from being accessed from unmanaged iOS and Android devices.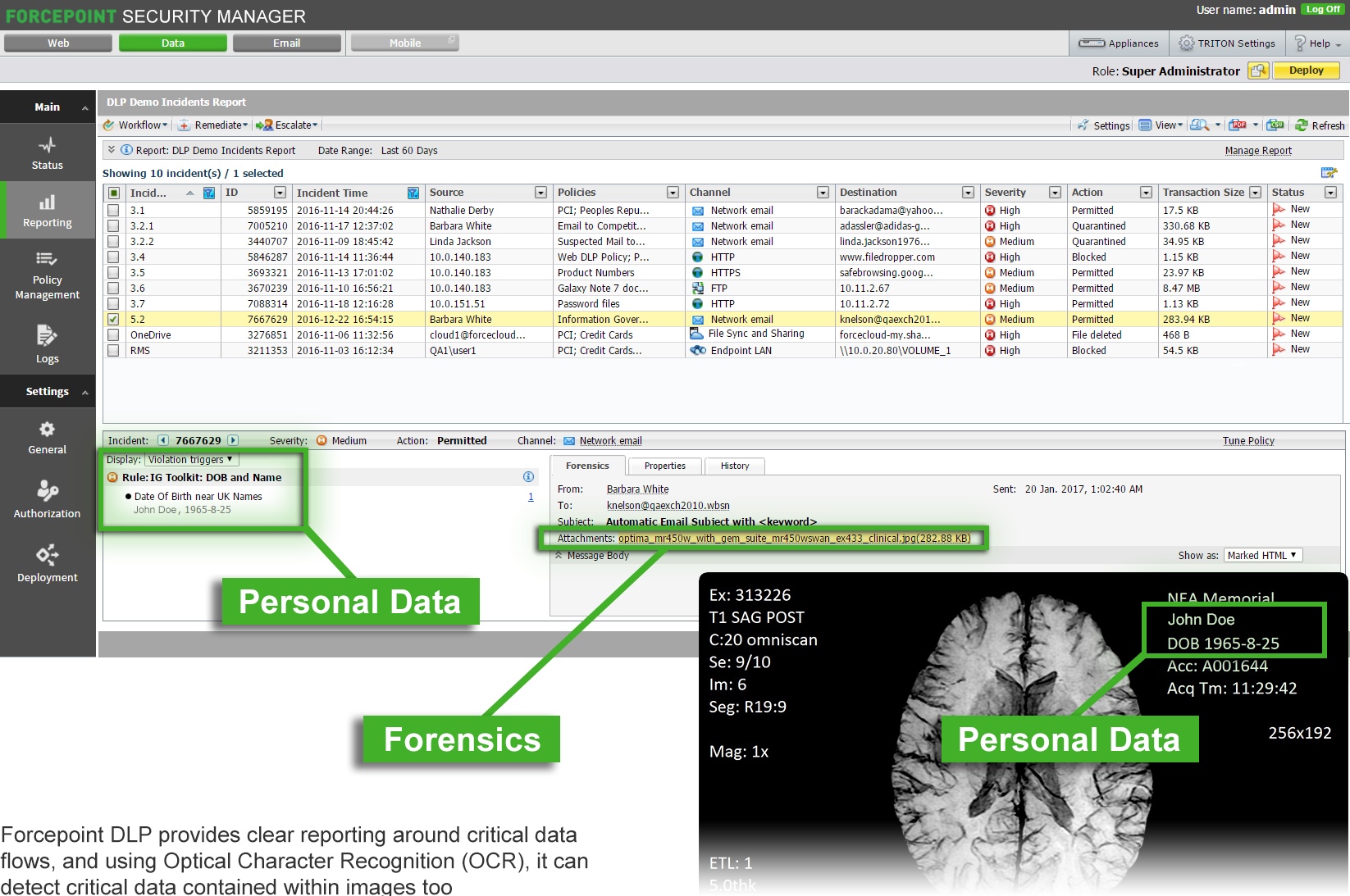 Features
Incident Risk Ranking – Focuses response teams on areas of greatest risk by applying behavioral analytics and machine learning to cluster DLP incidents in order of business risk. For more information, read the Solution Brief and Incident Risk Ranking whitepaper.
Office 365 – Extends enterprise DLP policies across O365 applications, with flexible deployment options including on-premise and Microsoft Azure. Forcepoint DLP integrates with Azure Information Protection to extend DLP policies to files protected with Microsoft Rights Management Services (RMS).
Integrated incident workflow - Provides DLP incidents to data owners and business stakeholders for review and remediation – either via email or directly within the Forcepoint Security Manager.
Pre-defined policies (including the EU GDPR) – Detects and protects Personally Identifiable Information (PII), healthcare data (PHI) and intellectual property with policy templates specific to the needs of industries and global regulations.
Advanced Detection capabilities – Includes Optical Character Recognition (OCR) to detect critical data inside images, "Drip-DLP" analysis prevent low and slow deliberate data leakage over time, and indicators of compromise leading to data theft.
Integrates with Forcepoint Insider Threat – Empowers data awareness in Forcepoint Insider Threat as it automatically detects high risk individuals and orchestrates the investigation of accidental, compromised and malicious users – the people involved in a data breach.