AI Doesn't Respect National Borders with Nicolas Chaillan
This week we are so excited to have Nicolas Chaillan, founder and CEO of Ask Sage join the podcast for a discussion on the explosion of AI and the many implications that come with that for government and businesses. He shares insights on AI regulation both what's underway and considerations that should be undertaken when shaping how AI is regulated. It is no quick and easy fix!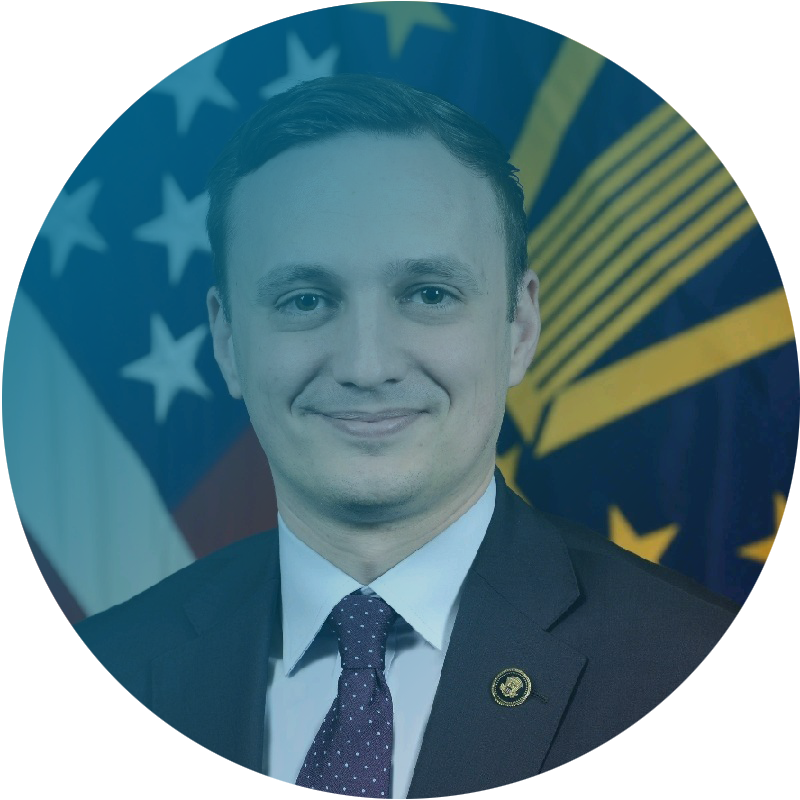 And then there is the flip side of regulation does it stifle innovation particularly when AI is in its infancy and the power it can deliver has yet to be fully discovered. We also dive into the ChatGPT topic on everyone's mind and how to utilize this productivity-enhancing tool within organizations without intellectual property entering the chat and walking out the door. And so much more!
AI Doesn't Respect National Borders with Nicolas Chaillan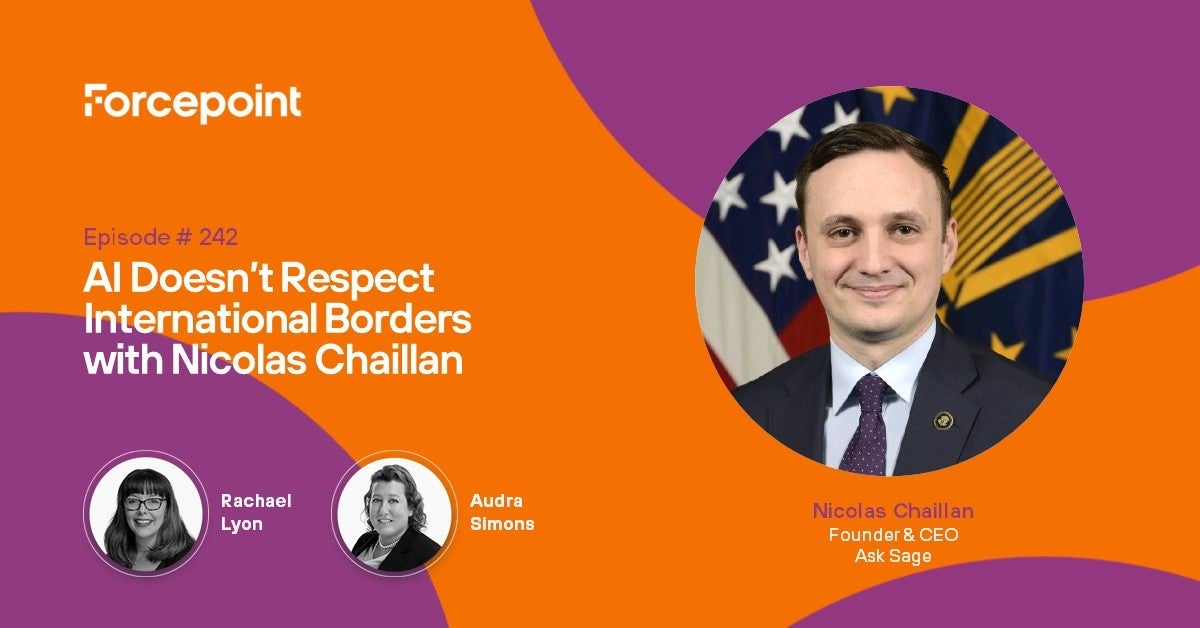 [0:54] Navigating the Complexities and Regulations of AI
Rachael: Today we are gonna hit on my favorite topic. I don't think everybody's favorite topic right now. You just can't escape it. So I'd love to welcome you to the podcast Nicolas Chaillan. He's the founder of Ask Sage, which brings ChatGPT to government teams, and he also has the great distinction of being the first US Air Force Chief Software Officer. Nicolas Chaillan, welcome.
Nicolas: Thanks for having me. Very excited.
Rachael: You're right in, I would say the kind of apex, is that the right place to say of this gender of AI discussion right now? Everyone's really trying to wrap their arms around it, trying to understand it. And it's kind of like this thing where you're only limited by your imagination in terms of what you want to do with it.
And you hear a lot of people like Sam Altman, he's the CEO and founder of ChatGPT testifying in the Senate hearing about regulations around artificial intelligence and regulatory entities focused on AI. Is that even possible for something like this? How do we even get there?
Nicolas: I don't think it's possible. I think what's interesting is these companies telling people we should regulate this market nowadays are the same companies that grew so fast and made billions, and raise a lot of money, to get where they are now. Funny enough, now they are able to handle that kind of regulation and all the paperwork that would be tied to complying with those effectively limiting which company can come and compete.
So it's really just a great tool for these companies to prevent new startups to come and compete. 
The Global Race for AI Supremacy
Nicolas: And quite honestly, what scares me the most is the fact that we forget that China is rapidly embracing its equivalent with Baidu. They have a GPT stack that they brought and gave access to the Chinese communities' quality to GPT across all fabric, unclassified secret, and top secret.
And so that's a massive enabler for the CCP and calling on us to slow down or pause which you never put a genie back in the bottle anyways it's complete nonsense. But even if you could China would say, "Oh yes, we'll slow down and then keep pressing and ignoring the same promise they made for many other fields."
And so the nation that will control AI will control the world and there's no doubt about it. And so it will be silly criminal to prevent the US and Europe to compete and be the lead and the leader they need to be in AI. 
Audra: So, Nick I'm sure you've seen in the news that the British Prime Minister Rishi Sunak has actually gone over to Washington. And he wants to push the UK as a global center for artificial intelligence regulation trying to insist that we've made headway in this kind of area. But considering the fact AI doesn't respect national borders so how can Britain really lead on global safety?
Nicolas: Well it's always interesting to use the word leading in the same sentence as regulation. I think the nation that leads in regulation is leading in everything else but the innovation, you know? And so effectively it would be a guarantee to ensure that all AI companies never do business with the UK. 
Ethics, Compliance, and Innovation in AI
Nicolas: And certainly would never put their headquarter in such a nation that would effectively be so focused on compliance and bureaucracy and forgetting the massive impediment this creates in innovation. So I think it's all about balancing ethics and innovation and compliance and security. And I'm not saying we should ignore ethics and compliance. I think no one in the world wants to create any kind of organization and say that their top priority is to be compliant or be regulated.
The minute companies start to call for regulations, you know there is something wrong. And usually, it's because either they know they can take it and they have enough revenue and people to handle the massive barrier to entry that is regulation. Or they just effectively are trying to prevent new companies to come and compete as we talked about.
And so for a nation to want to be instead of saying, "Oh, we want to be the nation leading in AI." Is saying he wants to be the nation leading in AI regulations. That's typical bureaucrat that has never run a business before in their life. That's always interesting to me. 
Audra: The British have been very good about that sort of thing for many years. 
Nicolas: We've seen it with GDPR and Europe. I think there's some good that came out of it but there's also a massive barrier to entry and a lot of companies deciding not to do business with those nations. And I think the impact is tangible. 
AI's Evolution and Impact
Audra: I'd agree. So let's talk about the more interesting kind of things around this. Let's get beyond regulation. What have been some of the biggest developments in AI over the past few years that have really caught your attention and driven you in this direction? What kind of evolution do you actually expect to see in the short and midterm?
Nicolas: There's a lot of pretty amazing things happening in AI. Obviously, everybody has heard of ChatGPT and it's really, an eye-opening moment for a lot of people that had never had a chance to really directly engage with AI. I think it's often seen as this magical tool behind the scene.
You look at Google you look at all these companies they've been using AI for many years now. What's different with ChatGPT is you're putting AI into the hands of everybody at a cost that's negligible. 
When you compare with a disruption created by robotics in automotive for example, the cost of this kind of machinery was tremendous. And so the barrier was pretty high in adoption. But yet it was able to completely disrupt the entire automotive industry. In this use case here with ChatGPT obviously with the cost being so low often free or in the 20 bucks range you can completely disrupt the entire world.
And honestly, I think the impact on people that are putting their heads in the sand hoping for the best is going to go away. Particularly when people think of it as a gimmick or something that's going to fade away with time. I think that's very short side. 
[7:40] The Disruptive Power of AI
Nicolas: I think it's gonna completely disrupt a lot of jobs particularly when it comes to non blue-collar jobs. I can tell you all the people that pushed all this anti blue-collar job rhetoric nonsense are gonna be pretty surprised when this is gonna become probably the safest way to be able to live and have revenue that's gonna last beyond the 20-year cycle.
And I think it's in development, software developers in acquisition and legal lawyers marketing PR, and so on. I think it's gonna drastically disrupt everything we know turning one person into 10 on average in software development when it comes to acquisition and bidding on contracts and stuff. We've seen as much as one into 16 which is mind-boggling.
And then the question is are we gonna do 16 times more work or are we gonna reduce the workforce? And I think it's gonna depend. I think it's gonna be a mix of both but for sure the impact is gonna be tremendous.
Audra: So what do you see in the future beyond the impact on jobs? What about Education?
Nicolas: Yes I think it's always interesting how people react to innovation. I think it's been particularly crazy to see how people reacted to ChatGPT in a negative way because every innovation comes with good stuff and bad stuff. And for the first time really we've seen I don't know if it's just the media that's so biased because they're afraid of being irrelevant which they probably already are anyways.
But what you end up seeing is all this negative press and diminishing the potential. That's very criminal. 
Embracing AI: Unveiling the Positive Potential
Nicolas: I think when you take a step back there are a lot of issues hallucinations and mistakes and misinformation and lack of transparency and whatever else. But when you look at the problem it's still 95% good and the 5% can be solved. So just like discarding or ignoring this innovation just because of the fear of the disruption that comes with it is only guaranteed that it's gonna grow faster and be more painful. So it's very shortsighted. And I can tell you in education specifically when you see people overreacting and starting to ban it all over the place. 
Of course, people are gonna find a way to go around the bans anyway. But when you look at something as simple as the calculator we had a similar reaction right? People are like well people are gonna forget how to do basic math and we are gonna become dumber and dumber which we probably will...the fact is people get complacent and stop basics, stop learning the basics nowadays but you've seen it across everything, not just math right?
Because of technology but that's not a reason to ignore it. I mean some people can learn basic math and still use a calculator right? So I think it's all about how we end up using it. And so banning stuff is socially exciting. Instead of saying, "Hey, let's take a step back and see how we should use it. And in what instance does it bring value in one what instance It's a concern."
But the fact is it's not gonna go away anyway. So it's pretty mind-boggling to see all these negative, all the focus on the negative aspect, and no one talking about the good stuff!
Redefining Work with ChatGPT
Nicolas: It's what sells, I guess, in the press. But then you see all this bias where they write stuff pretty much telling people they're wasting their time to try to use it but then they use it themselves for other stuff. It's very fun.
Rachael: Yes, I think a good education opportunity for a lot of people out there, right? It's like when they're trying to understand cybersecurity and other things. Like anything else, it's how you use it responsibly.
Nicolas: I created my first company back in France. I was 15 I'm 38 now, I founded 13 companies. I was the first chief software officer for the Air Force in Space Force. We had a hundred thousand people and 60 billion in funding. I built 187 products that I sold to 4514500. And I'm gonna say something here that might be mind-boggling but I have yet to see anything disrupt my life as much as GPT has done.
And the way I do my day-to-day work is completely and entirely different. 
I don't Google I don't go on Stack Overflow. I'm both a cyber guy a software developer and an entrepreneur. I have my YouTube channel and started using it just to write my video scripts I taught at my existing 55-plus videos. So now I started with that and pretty much I was a pretty face reading the scripts. And then I went beyond the gimmicks of that and really started to see the value it could bring to the government. I think it's really mind-boggling how we can automate a day of work. I don't even Google anymore. 
Exploring the Boundaries of Fact-Checking
Nicolas: If you had told me seven months ago that I would not Google I would've told you, you are crazy. I mean it's just never gonna happen. And yet this is where we are. So I think people that dismiss it and don't take a look at how to re-reinvent themselves and benefit from that are gonna be the ones paying the biggest price at the end of the day. So that's really something I wanna raise awareness because I think there's gonna be plenty of new opportunities. The question is, is it gonna be the same people or not, getting those new jobs or is it gonna be a whole new wave of different workforce?
Audra: So Nick I just wanted to ask in terms of fact-checking what you are feeding GPT and kind of training it effectively to learn maybe how you like to speak. Or the subject matter that you like to go through or those sorts of things. In terms of the fact-checking side of things. Because I was talking to someone and I said we need to have a policy around AI tools within the business because if we're using them, we do have analytics tools. 
We've had analytics tools for years, we need to approve how they're being used. And this person went on to ChatGPT and they went and create a security policy like acceptable use for AI and it just generated this policy. They said well, I was like they said they hadn't really read it but they figured it should be good enough. So there's a whole little bit of fact-checking and this was a little bit of a joke. So at the time, this was not our legal team.
[14:50] Harnessing the Power of AI
Nicolas: Yes it's interesting right? Because when you take a step back and look at Ask Sage and how we created it, you look at the logo of Ask Sage it was created by the bot. You look at the UI 90% created by the bot 90% of the backend. Also all the DevSecOps, the CD pipeline stuff created by the bot a hundred percent. All the legal stuff was created by the bot. When we said it to the lawyers they did some red line but just to pretend they were bringing value there was nothing meaningful. A private privacy policy on tiredness cybersecurity documentation was created by the bot based on the controls we fed it. 
All the GDP, all documentation was created by the bot. Barely changing a word but again it's how you do it that matters. If you just say write a policy, it's not gonna be good enough. We trained Sage on Sage itself so he knows all the controls where it's hosted how we do MFA how we do all these different cyber things. So it has all the context to be able to provide the right information. 
I think what we find with the issue with hallucinations and factual checks I think the more you teach it about the topic the less likely it is gonna be. And so I think it's all about training and how we tied it into APIs and databases and data lakes and knowledge bases. So now it's not just when you ask a question it's tapping into these databases pulling the results and augmenting its own knowledge to be able to come up with better answers. 
Disrupting Google and Building Agnostic Language Models
Nicolas: And so I think it's gonna be long-term and non-issue. And by the way, we tap into Bing and Google so when I say I don't use Google it might be a little bit of a lie because Sage taps into Google to pull the results from Google. But I guess I'm not directly going to Google to Google stuff so he's doing it for me. But it's how you solve the problem of the factual checks. 
Rachael: Smart. I wonder if Google ever saw this coming right? I mean I don't know that I ever imagined a day I wouldn't Google but to your point right now Google just becomes an input to a much more senior which
Nicolas: It's terrible for the ads. I mean if you think back on how they make money right? That killed the entire business model. And that's very scary for Google. And so they actually launched a Google bond right? So we have Google Bond and that's also what's important for us when we built a stage is we want it to be agnostic to the large language model. 
We also have Google, we have Cohere, we have open-source models. And when we train data what's very important for us is we train it. So it's agnostic to the model. So effectively you can ask questions to Google about it and then you move to open a ChatGPT three five and four and you get the same knowledge base because we built it to be. And I think that's very important right? More importantly, we label data down to the user level. 
Exploreing Data Labeling and the Future of Ads
Nicolas: And so each user has a label like data buckets and then they can be shared across users so not everybody sees what you're doing right? That's very important for privacy and then intellectual property and cybersecurity to limit who gets to see what and how. And so we built that, that was the foundation of sage to really prevent leakage of data. 
And I think that was really the most important thing we built tying back to know APIs and that database and all this cool stuff. It is just mind-boggling what you can do because now you can automate a step-by-step vision, do this, and do that. It's able to effectively take a day of work and you can estimate how the human would behave and the body's capable of flooring the same steps it's pretty mind-boggling.
Rachael: It's kind of awesome. I mean can I come back to Google one more second? Because this is my other question. When you talk about ads though I mean if we're using Google Bar does that become the next kind of invasive targeted ad platform? 
Nicolas: They have no choice but to do that right? I mean that's how they made money right? I mean, I don't know if revenue people are not gonna like it.
Rachael: I mean that's the kinda stuff that makes me a little nervous cuz what you are probably asking right? Could be who knows what it could be right? I mean it could touch all facets of your personal and work life.
Exploring the Trade-Offs
Nicolas: Especially you, already doing it with Google anyways so they weren't really getting everything. If you look at the data points. Yes, that's a true website actually. I forgot it's something that google.com but you can go and see all the data they're collecting including all your geolocation on your phone and stuff.
Audra: Your profile.
Nicolas: Right? So creepy. So there I'm doing that now with the chatbot you're probably gonna share more insights and more details on your life, about your life and stuff. And then by the way if you start connecting all this stuff to your emails and all your everyday business decisions in life. I think that compounds the problem for sure. But that's why is it gonna become a price model where you pay 20-30 bucks a month.
But even if they do that it's not gonna be able to to bring the revenue they're making with ads right? So that's gonna be interesting to see the valuation of Google in 10 years you know?
Rachael: Exactly. But they have.
Audra: To regenerate themselves in a different form.
Nicolas: Yes. And it's not easy when suddenly go from a free model to a paid model to ads where always this like oh I'm not giving away anything you know? But you were selling your own soul but you didn't really realize it.
Rachael: Well that sounds really awful when you say it like that but Yes it's true.
Nicolas: What it is...
Rachael: Right?
Audra: We gave up our privacy for convenience a very long time ago.
[20:55] Empowering the Public Sector with ChatGPT
Nicolas: It was slowly and duly, right? They were very smart in doing it incrementally over time so people would pay less and less attention. And then cyber events would happen more and more and data would be leaked more and more. So you would be like well why do I care anyways?
I have nothing to hide. And the more breaches the more your data is out there the least you care and now you compound to the fact that you're giving away your privacy for free service. So it's a compounding factor. It's interesting.
Rachael: It really is. And so I'm really interested in your company, it focuses on kinda government teams and we talk about kind of applications like different industry sector applications, right? Every single industry is going to be impacted by ChatGPT and they're all figuring out how do we harness it for productivity right? So that we could do more we could scale faster things like that.
And I think the government in particular has a lot of very different considerations right? 
Then they'll say a PR agency or a marketing firm. And do you see this helping the government teams move faster though? I mean you always talk about the pace of government and how things get done. Is this going to accelerate what the government can do or help them get to outcomes faster, and work more efficiently? I mean where do we see some opportunities here within kind of public sector organizations?
Nicolas: In the city? Yes, and that's the goal, right? I think it's all about velocity and being able to compete against China. I'm not too worried about Russia but I'm very concerned with China. 
Unlocking Government Potential
Nicolas: They already embrace ChatGPT and they already brought it across their government use cases. And so that's even scarier because you're complaining against a lot of people and they're not lazy and they wanna get it done. And they have, I guess the one side of communism that's a good thing is the fact that they can tell people what to do, and they have no choice.
So they're getting a lot of data a lot of insights and a lot of work done right? So it's pretty scary for us being a democracy and the good guys.
And so I wanted to give the best tools to get the job done and we demonstrated we can do that. We signed up about 4000 government teams in four months which is pretty unheard of both on the DOD side and also civilian side. And use cases are tremendous between intelligence gathering summarization, creating content, and writing bids right? All the way to grading bids back when you get the response.
We have contractors using it to respond to bids. It's kind of the full supply chain of acquisition. 
And we got so much demand, and back to the security aspect of what we built we ended up also opening a NATO region for five eyes and for Europe. And then we also opened a financial sector region because we got so many hedge funds and VCs and banks that wanted the same kind of security levels that the government would want. So we ended up expanding way more than we thought.
But really that helps us fund all the work we're doing on the government side too. But on the development side, it turns one person into 10. 
Enhancing Code Security and Velocity
Nicolas: We have a plugin now that effectively scans your code repository and looks for improvements both in terms of cyber in term of performance and looks for cyber issues. And creates a full request in the gi repo to proactively propose changes that a human will review and you commence your code. I hate writing documentation. And so the body's doing it by itself every night. 
So it's almost like getting a free audit of your source code every night. It's just a game changer on how you can automate what used to be multiple jobs on both the cyber side and the developer side and the documentation side of the house. And so you end up easily seeing a 10 x increase in velocity
Audra: And Nick how are you actually keeping that data? What is sensitive data code, is sensitive data it's intellectual property, and that sort of thing how are you keeping that safe? If we're kinda going okay doing the scans for it is awesome. We do have tools that do scanning on our codes today anyway but what happens with that data? Like how is it kind of uploaded processed and protected?
Nicolas: Yes. That's the foundation of Sage that we built to prevent what you've seen in the news, with Samsung giving data to ChatGPT and the data being trained to the model. So first we have a dedicated Azure Open AI endpoint, that's not the app that everybody is using to use ChatGPT.
We have a special agreement with Saff where the data is not getting trained into the model, no human review of the queries, and the prompts, no logs and telemetry. 
Protecting and Enhancing Data Performance
Nicolas: So there's nothing stored on an Azure open AI side of the house. It's effectively what we call a fire and forgets app in which you ask a question you get a reply and he forgot you even asked a question. All the data gets stored in our multi-tenant stack. We also have the option to have dedicated tenants for bigger organizations as well.
So we can spin up a dedicated AI per-customer basis as well. But most people use the multi-tenant version for 30 bucks a month it's pretty inexpensive. 
It's hosted on Azure government for control and classified information which is the highest and classified content classification. And so the data at rest is obviously encrypted. It's all vectorized into a vector database. And each user has labels that use zero trust as a foundation with multifactor authentication and all the good stuff. Then once you authenticate you only get to see the data you trained and nobody else can see it unless we share the data set with somebody else. 
And so that limits the exposure of data on a per-user basis. And the data is never used to train the model because if you fine-tune models with data then you cannot control who gets to see what and how. Because we add the data on top of the model we don't fine-tune the data into the model so it never gets into the model. And so we get to control who gets to see what and when.
Audra: Yes. That actually sounds very good but it also means that your models will be a lot better in terms of if you're giving it relevant training sets. Cuz if you're just using general Google which I think a lot of people are.
[28:17] Real-time Insights and Accurate Queries
Nicolas: Yes. And because we tap into live APIs and databases and data lakes one of them is Bing one of them is Google but then we tap into enterprise knowledge bases. The bot is able to query. And funny enough if I say show me how many users I have that created an account in April 2023. The bot takes these plain text questions converts them into a SQL query, runs a query into the database gets the reply back to the user seamlessly. 
So effectively it's not making it up it's getting the insights in real time. So when we do weather data you ask what is the weather in the airport of Virginia the bot knows the API is gonna query. The API gets the reply back and then converts the encoding of the weather into plain English natively.
So in this case we don't use the bot to decide what the weather is. We use the bot to query the ap and then we use the bot to convert the encoded API result into plant text English. And so the bot is able to take all these encodings of pilot weather data into the wind and icing and whatnot. So that is to show you that the bot is not always used to make the answer up. It's actually used to query the API to get the answer. So you cannot be wrong.
Defending Against Hacks and Upholding Free Speech in Bot Security
Audra: So tell me have you had anyone trying to perhaps hack the bot or have some level of control or influence?
Nicolas: Oh Yes everybody every day and there's different levels right of hacks. I mean there are people trying to bypass some of the security we're putting in, we have a lot of Chinese activity for months. We worked with NSA and DIC to see what we could do with those.
We had a lot of pen tests done. look there are also perfectly legitimate use cases of doing cyber offense legally with writing code as well. But Yes people trying to bypass some of the safety mechanisms we have, but we're not the thought police we kind of hate anyone trying to limit free speech. 
And so we're very much hands-off when it comes to deciding what is right or what is not. The customer decides how they use the platform. They have to abide by and follow the terms and conditions of each of the models we use. So OpenAI they have its own terms and conditions. Google as well, and others but then there are open source models where you can pretty much do whatever you want which is fine with us if you're a paying customer you decide what you wanna do.
We're not here to tell you, you cannot write a poem about Donald Trump or Joe Biden or whatever. That's not our job.
Audra: We have done our experimenting a little bit with ChatGPT. So you may have seen either in the article or news stories in the press about a Forcepoint employee testing to see if they could use ChatGPT to build malicious code. 
The Model Behind ChatGPT 3.5 
Audra: And admittedly they started and ChatGPT said it's unethical to build malware which is fair. So that works. They decided instead to see if they could kind of generate a kind of helper code, a kind of snippet that they could then manually build together. And it was very successful, what was nice though was that we actually also had the products to be able to defeat what they built which we did test.
Nicolas: Yes. It is not surprising. I mean there are ways to go around this kind of baked-in security mechanisms that are pretty lightweight. Anyways, the models will go around that security and you'll be able to get the outcome you want. In fact, we have Da Vinci which is the model behind ChatGPT 3.5 which has none of the ready limitations and bias also of ChatGPT 3.5 also on the political side.
And so there are always ways to go around the system. 
The beauty for us when it comes to data privacy though is that we're not using AI capabilities to decide who gets access to what and how. So like any data set you ingest into the bar, all that knowledge base is controlled in a traditional zero-trust way. And now using AI to decide yes or no if you should have access to stuff.
So it's very unlikely someone will be able to tamp that. Now they would be able to bypass some of the mechanisms of the large language models like oh it's not ethical to do X Y and Z. That is very likely to be bypassed very easily via pump engineering.
Audra: Wow.
Rachael: It's like you thought of everything.
Anticipating Hacks and Ensuring Data Privacy in the Age of AI
Nicolas: Well that's kind of what we have to do when we work with the government. We can't mess up. So my brain is messed up. That's why I was always a good developer and cyber guy because my brain always thinks of the Mauricio things. I would've been a good hacker I guess.
Rachael: Yes. But you have to think that way right? I mean otherwise, how are you gonna have the holes in the system that you can plug up or kind of get ahead of it's like you have to think like a criminal to secure things that are legitimate today. It's fascinating.
Audr: It absoalutely does help. Yes. Cause when I got into technology some of the first things I did was when I was testing new products I was like how can I use this to do fraud or anything like that? And it's a really good perspective on how to look at it. Cuz if you don't look at it someone else will.
Rachael: Right?
Nicolas: Yes. And it is just foolish to think it's not gonna happen. And it's not a matter of if, but when pretty much so.
Rachael: Exactly. Although hacking can be kind of lucrative too.
Nicolas: That's right.
Rachael: You know. I'm really interested in your background though too. I mean obviously, you started a lot of lot of companies. I mean you're the ultimate entrepreneur. And I think it's so fascinating too that you spent some time in the US Air Force which is like standing up a business right? A service organization as chief software officer in the Air Force. I mean how does that come about?
Because I imagine that's not an easy thing to do.
[35:23] From Hacker Mindset to Entrepreneurial Success
Nicolas: Yes. Particularly for a French guy you know? So obviously I'm American now but people would always wonder if I was allowed in the building that's for sure. I wonder about myself sometimes. So I get it. I think it's it's interesting how we kind of demonstrated that a small group of people can really impact the behemoth that is the DOD. I think there's a tremendous level of waste of taxpayer money.
Unfortunately, you're dealing with a lot of bureaucracy and people that have yet to really understand what it takes to succeed and compete in the modern world. 
And so we're so complacent and so used to leading that we've let China slowly and truly take the lead. They take the lead on many of the key sectors that are gonna define whether or not we're gonna win with our kids 20 years from now against China. Including in hypersonic, quantum computer, AI, and many other fields, like swarming drone technologies where we spend a lot of money to build exquisite weapons systems that are very expensive and very good. 
But gets stolen and the IP gets hacked and stolen by China for hundreds of thousands of the cost. And then you see China building the equivalent to have 35. It's kind of the cheaper version of it. But still, they save a lot of time and money in building it.
And so we live in a world where a lot of the next generation while fighting will be a different way of fight and it's probably not gonna be these fancy weapons systems. It's gonna be cyber, by the way, we're doing very good in cyber security, particularly in offense but we're doing very poorly in defense. 
Bridging Bubbles and Defending Against China's Aggression
Nicolas: And so they established that if China decides to go after Taiwan the first thing they would do is take down 40% of the grid. Which would take a hundred percent of the grid US grid down. And then we have no communication mechanisms. And effectively the Pentagon would demonstrate within 24 hours we have no communication at all. Which effectively you lost everything at that point. Very difficult to succeed when communication is gone. 
And so there's a lot of fear and I did my best for three and a half years to show all the key concepts we need to embrace in agility and the velocity of work. Getting rid of that complacency we're facing and kind of the self-sustained bubble of clearances and the government being in this there's kind of two bubbles right?
We have the Silicon Valley bubble that I call the Kumbaya bubble and then we have the complacency bubble with the D O D. And ideally, we want to merge both of them and pop them. So we have a fighting chance at winning against China 20 years from now.
Rachael: That's a big tall ask to get there but not impossible.
Nicolas: Well I think if we were not continuing to over-classify how bad the situation is against China. Particularly all the IP theft and all the stuff they do including having a police force in New York City and other cities in the United States. And we start opening up more and you've seen the FBI director and other agencies start to talk a little bit more openly about the aggression that China has been doing for the last 20 years. 
Balancing Privacy and National Security
Nicolas: But at a much broader scale. And people start to realize kind of the existential threat that is China to our nation right? I think people would wanna proactively come and make a difference and engage with the government. Love startups refuse to do business with duty. Of course, in China, the CCP is now giving the companies a choice and so they have access to best of breed.
So while US companies might be leading in some of these fields we mentioned the fact is the government does not have access to the best-of-breed capabilities in the United States because the US companies refuse to do business with D O D. And so China has even if they're they're lagging behind a little bit on the commercial side the government side has access to the best of breed of their country. And so which is much better than what we have.
So that makes it pretty difficult to compete. Yes
Rachael: That's a great point.
Audra: Absolutely. I think a lot of that comes down to the whole privacy aspect I mean there are reasons why GDP PR came up in the UK and Europe. And that side of things and that there are companies within the US who support that as well in terms of business with EMEA in the UK. But I think the concerns most of the time are over privacy when it comes to businesses not wanting to work with governments. But do you see it differently?
Exposing the Ethical and Psychological Warfare of China
Nicolas: Yes I think there's a lot of misunderstanding also on the weapon side. And I would do conferences and you would always have a few people at the end of the conference shake my hand and whatnot. There would always be a few waiting in line all to tell me that they won't shake my hand because I have blood on my hands from the kids the jets are killing or whatnot. And it's the same people that enjoy freedom through the sacrifices of the warfighter. 
They live in the Kumbaya Valley where they have no clue what's going on in the world and they've never traveled much and they don't know how bad it is in other nations. And particularly when they're born it's funny how the kids born in the United States are even more clueless. Probably because of the infiltration of our schools by China. By the way, it is orchestrated to effectively start creating hate of the nation and the flag and everything else we stand for.
And it's something you would not see in many other nations. It's another piece of how small China is when it comes to creating this global warfare concept that is way beyond weapons purely ethical slash psychologically driven warfare. And that's very scary that they play the long game and they don't have to lose anybody. And you have generals in China openly discussing that they would be okay losing 140 million Chinese if it was to win back Taiwan you know? That's pretty scary when you hear that.
[42:20] The Remarkable Career of Nicolas Chaillan
Audra: Agreed. So it's been absolutely brilliant having the conversation all around privacy and where things are going with AI. But I wanted to ask cuz you had a really good load of stats at the beginning of this discussion. Of all the different businesses that you've run and the number of different solutions that you've launched.
What do you actually consider to be some of the greatest cybersecurity achievements of your career?
Nicolas: Well I think that was probably when we brought Zero Trust with Google back into the government back in 2016 at DHS. I built the first and largest zero-trust implementation in the government. And I think it still is today. Really embracing the Real Zero trust not just the gimmick stuff that everybody else brought after it decided to become a buzzword you know? 
But I think embracing that move away from the parameter defense and embracing zero trust was probably the biggest achievement we've done. And then of course we put Kube and DevSecOps on jets and bombers and space systems and even nuclear systems. I think some of these systems will be running for 70 years. So it's kind of interesting to see some of my work and my team's work lasting for 70 years. That's pretty fun.
Rachael: That's awesome.
Nicolas: We also put CME on YouTube jets and f16 and kind of demonstrated we could do it on legacy hardware and do over the update while flying the jet with no impact. The wildness of the aircraft and be able to update AI components while flying the jet using containers. That was never been done before. It's kind of a Tesla of jets and that was pretty cool.
Audra: Absolutely.
The Next Chapter
Rachael: That's exciting. It kind of makes me ask what's next for you too like after this whole Sage thing like where were you gonna put your next sites?
Nicolas: Well it took me 18 months after leaving the government to get excited about something. So that tells you that Sure. It was pretty tough on me moving from jets and space systems and nuclear stuff and like oh I'm not gonna do a freaking mobile app you know?
It was painful a little bit to find something to get me excited enough. ChatGPT and Sage and all the stuff we're doing there is kind of very nascent and I think it's gonna evolve into something pretty exciting. And I think it got me excited enough to create a company that should tell you that the bar is pretty high already. So that's a lot of cool stuff.
Rachael: Yes I'm excited. I don't think things are gonna be remotely similar in the next I don't know 10 years maybe five years even Nick I don't know. What do you think?
Nicolas: It's gonna be completely different. Completely different. I think the biggest thing for people to pay attention to is self-learning and investing in themselves and spending an hour a day learning people. Spend an hour a day on freaking TikTok. First, delete it and remove it from your device.
Passion and Growth
Nicolas: And just investing in yourself and learning, I think is gonna be key in it. The velocity is increasing such that it used to be a 20-year cycle or 10 years. Then five years now I think we're less than a year cycle of innovation and yes you become obsolete within a year and it's just unsustainable. 
But if you're not passionate you should probably pick a different job cuz it's very tough to reinvent yourself if you don't have passion. It becomes too stringent and too difficult and too painful to keep up. And there are other jobs where you don't have to do that. And if you don't have the passion you should probably not be in it anymore you know?
Rachael: Absolutely.
Audra: I think when it comes to doing a career you should always have passion for what you do. Otherwise, there's no point getting outta bed in the morning.
Nicolas: That's right.
Rachael: A hundred percent. Well, I love it. This has been so wonderful Nick having you on our podcast. I just really appreciate all the great insights and I love the closing message too. Invest in yourself because I think a lot of people forget that. I mean to your point they get caught up in the day-to-day or your TikTok and you don't realize how much time you are losing just on things that don't matter right. 
Embracing Change and Staying Secure
Rachael: And when you start kind of cutting those out and focusing that time in a different way can have a huge impact on your life and kind of what you enjoy doing and get out of life. So I love that message very much.
Nicolas: Well thank you. I appreciate it. It was great. Thanks for having me.
Rachael: Definitely I'd love to circle back maybe nine months, a year. And see how things have changed because I think it's gonna be a completely different conversation 
Nicolas: The world would've changed.
Rachael: Exactly. And I'm so excited to see where that takes us.
Audra: And Nick thank you for being my first like very iconic person to start with on co-hosting the podcast. It's been brilliant.
Nicolas: Yes thanks for having me. This was a lot of fun.
Rachael: Absolutely. All right so to all of our listeners out there thank you so much for joining us this week. And again welcome Audra to the podcast. We've got a lot of fun stuff ahead but I can't think of a better way to kick off your first show. So Nicolas Chaillan, Audra again thank you so much. And until next time everybody stays secure. 
About Our Guest

Nicolas Chaillan is a technology entrepreneur, software developer, cybersecurity expert, and inventor. He was the first U.S. Air Force chief software officer (CSO) and is the founder of Ask Sage, Learn with Nic, and In the Nic of Time.
Listen and subscribe on your favorite platform