Exploring Digital Inequity Realities and Impact on Schools and Students with Keith Krueger
This week Keith Krueger, CEO of the Consortium for School Networking (CoSN), joins the podcast. He shares insights on the digital inequities that exist across schools and students and the challenges they create at a time when connectivity should be a basic right for all.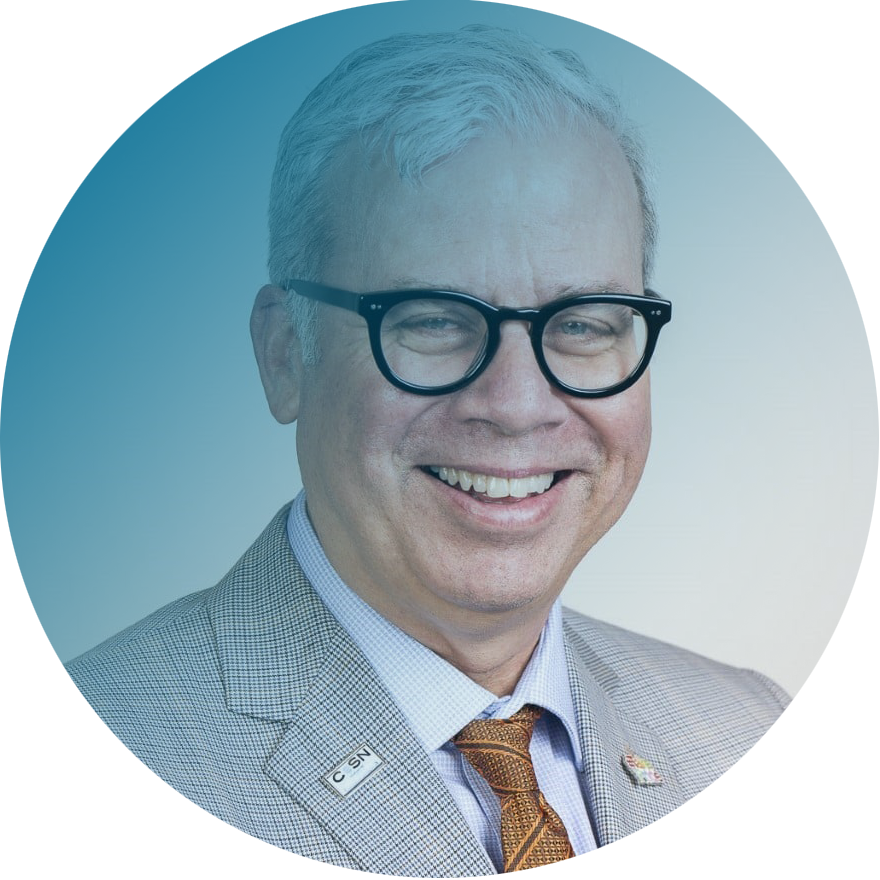 We also dive into the digital inequity impact on cybersecurity for school districts today – and the free resources and tools such as the CoSN developed digital equity dashboard that identifies equity gaps across school districts' networks to help illuminate actional paths to address. Keith also updates on the Biden Administration's new efforts to improve schools' cybersecurity posture and prevent future cyberattacks.
Exploring Digital Inequity Realities and Impact on Schools and Students with Keith Krueger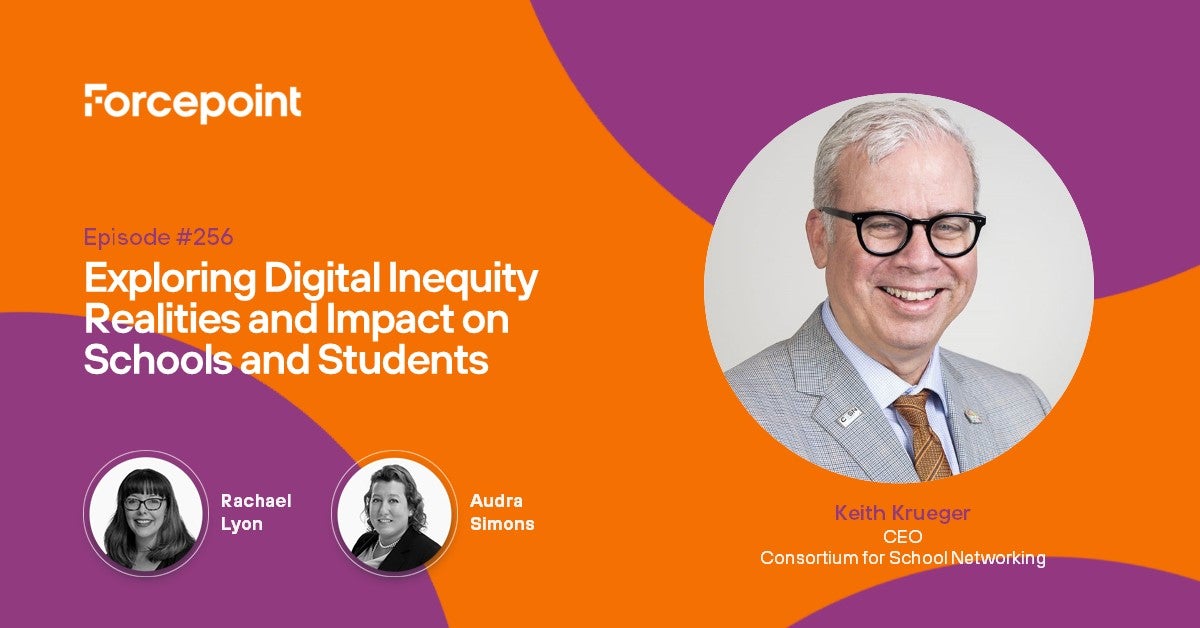 [0:48] EdTech, Cybersecurity, and the Challenge of Digital Inequity
Rachael: So I'm excited for today's conversation because we're going to dig more into EdTech today, which I just think is such a hot topic that not enough people are talking about, Audra.
So without further ado, let me introduce our guest today, Keith Krueger. He is the CEO of the Consortium for School Networking. It's a nonprofit organization that serves as the voice of K through 12 school system technology leaders in North America. 
Keith: Great to be here and I wish I was in London.
Audra: Well, if y'all want to be here with me, I'll start off with some questions. So most educators have little experience or expertise in cybersecurity. Because we have had conversations with people who are in Edtech previously. Yet the point is that it's the most pressing of vulnerabilities in today's society. And so beyond simply being aware of this vulnerability, educational leaders must ask themselves. What's an effective strategy for managing cybersecurity concerns and whom do you trust to actually give you the best information? And what I'm asking you, Keith, what do you recommend in terms of how should educators approach this? What should they do first? 
Keith: Well, it's a big challenge and our Homeland Security Agency, the Center for Internet Security, CISA, has said that K-12 schools in the United States at least are the most targeted for ransomware. That's because we've got lots of students and teachers who click on things that they probably shouldn't be clicking on. So you asked what the first fundamental thing that we need to focus on. 
Addressing the Challenge of Digital Inequity
Keith: And that is end-user training, meaning students, teachers, maybe even parents, and certainly administrators. They all need to understand the basics around being a good cyber citizen and not just clicking on anything but hovering over it and making sure it's a real thing. We also realize we are the professional association of people who lead technology in school systems, and school districts, we call them in the United States, and they often do not have deep expertise around something like security. And so that's important that we realize there's really a human capacity challenge. 
We haven't funded it very well in the United States, and I suspect most of the world. And that's a challenge. Even if you could in a school district hire someone with cybersecurity training. They would likely be hired away pretty quickly by local businesses because school districts don't pay as well. At least here, maybe they do in London, I don't know. But there's lots of challenges that we have and there's some strategies that we have. Would it be helpful to talk about what some of those are?
Audra: That would be great. Absolutely.
Keith: Yes. Well, one is obviously end-user training. But we also think that school districts should do what we call tabletop exercises where you get together. The other school administrators, none of whom have technology in their title. But maybe are in charge of the website or maybe in charge of the superintendent or the principal or the head of finance. It's nine o'clock in the morning and they get a notice that their network has been hacked and a criminal wants money. 
Navigating the Intersection of Cybersecurity and Digital Inequity in Education
Keith: So what are you going to say in response? Five minutes later you get a notice that you have to respond to the local TV station and 10 minutes later you're going into your cabinet level. So it's all a timed experience. So that kind of tabletop, real-time experience, part of that is to show that there are lots of people who need to play a role. It isn't just the person with technology in their title. 
There are lots of other basics, and we have some tips around things that school districts can do. Certainly, with operating systems and technology, you need to keep them up to date. Lapsed too often in education, we don't patch and fix the most current things because it's a distraction from all the other busy things that people have to do. But those updates are critical. They're often related to cybersecurity. So those are some quick things I think everyone needs to do.
Audra: So can we jump into a kind of inequity around digital inequity and cybersecurity?
Rachael: In 2023 to be talking about digital inequities. I think that is pretty staggering to me. So I just wanted to preface that as we jump into this conversation to even having this conversation, I guess that is what I'm saying.
Keith: Well, I think equity is at the heart of education and digital equity. First of all, we've made considerable progress over the last three or four years. Back in the United States in 2020, about 60% of classrooms were one-to-one with a device for every student. But many of those devices weren't going home. 
Unveiling the Impact of Digital Inequity
Keith: But we realized right when the pandemic happened that having a device as well as having connectivity was critical. Now we've been tracking that and we've been doing some interesting research. There are lots of surveys, but surveys are the best estimate of what the person filling out the survey thought. That is different than real data. And what we wanted to look at was what was the actual experience for students that first year when everyone was doing remote learning or just about everyone was doing remote learning. 
What we found out was video really changed the whole game and all of the assumptions we had around connectivity around devices. Particularly for students who were learning from home. They were in a home where probably their parents or guardians as well as their siblings were all trying to use that bandwidth. And the devices just simply didn't work. The connectivity was insufficient. And it was a particular problem to get to your question about equity among the poorest families. Those that are disproportionately from black or Hispanic families in the United States. 
We also went back to this last year to look at the experience of students at school, which is pretty good. We have pretty good connectivity at school and outside of school. And we found the shocking finding that more connectivity happens, and more bandwidth is used outside of school than at school. That's not to say they're not using it at school, but students doing their homework use a lot of bandwidth. Again, the same inequities were talking about. The poorest students from black and Hispanic and other minority families are the ones most likely to be unconnected. But we also found that under-connectivity is a big challenge, particularly because we're using video.
[9:12] Mitigating Cybersecurity Risks Amid Digital Inequity in Education
Keith: And when you get to the high school level, a third of students do not have sufficient bandwidth in order to do video conferencing. The poorer you are, the more likely you're using your mobile phone, which is probably data-capped. So when we do a survey of chief technology officers, only 5% say that every single student is connected outside of school. 
So it's going to vary in many wealthier communities. They've got pretty good connectivity for almost every student, and you can really micro-target the efforts. But equity is at the heart of what we need to do, and when we don't have intentional strategies to address it. We worsen the gaps that already exist for low-income minority families.
Audra: So can I ask, how do these digital inequities impact student cybersecurity postures? So what are really the biggest or greatest cyber risks that they face?
Keith: First of all, cybersecurity is a problem for all students and all educators. But I think those who are, well, I think we learned immediately in the pandemic that particularly if you haven't had the training if you're outside of school during virtual learning. There were lots of distractions, whether it was dogs or siblings. And so there's that. 
I know there was data showing that prior to the pandemic, maybe three or 3% to 5% of teachers and students clicked on bad links and it jumped to almost 20%. So there was much more lack of training. You ask about whether it falls more on low-income families. I'm not sure if there is evidence to do that. I mean, certainly, they are less likely to be connected. But it's a challenge for all students and teachers, I think the issue of cybersecurity.
Uncovering the Threat of Digital Inequity
Audra: If the cyber risks are the same. Do you think the level of issues happening, people clicking on links and things like that, was because during the pandemic more people were online? Or do you think it's something else that kind of drove up?
Keith: I think there were a lot of distractions and not paying attention. Maybe not having orientation training to think about it, maybe not feeling like you had anything, particularly at risk. I think that's a good question of what is it that, why would students care if someone took their data? And what we're finding is that student things like birth dates are very valuable to cybercriminals. And so a lot of maybe parents or policymakers would say, what in the world do school districts have that's so valuable? Well, they have sometimes social security numbers. 
They're often the largest employer. But to go back to the student, if they can get birth dates. They literally wait until the student turns 18 and file for credit cards on the day that the student becomes. And the student and the family may not find out for years later. There was just on our national public radio, they had a student who had gone to college. And a year and a half after she started college, applied for a credit card and found that she had $300,000 worth of debt that she never knew.
It's not just students, but there was this very rural school district in Arizona. They're actually in Navajo land, so an Indian rural area. They were hacked a year ago. Last summer, they were just about to get a grant for, I dunno, $30 million or something. 
The Harsh Reality of Digital Inequity
Keith: And their finance department had a phishing attack. The criminals got into there. So the district immediately contacted the FBI and got help, and they closed off all the data. So the criminals didn't get access to the data or the money, but neither could the school district anymore. In fact, they lost all data back to the 1980s, and they're legally required to have at least, I dunno if it's five or 10 years of data for the feds and for their state government. 
So they are manually recreating all their data, every transaction for the last 10 years, making it even worse for their employees. They could not make payroll for two months. I mean, other than manual checks. And a few employees had direct deposit and they had their, before they stopped it, their personal bank accounts drained.
Rachael: Oh no, this is heartbreaking. I don't want to cry.
Keith: You may say, well, this isn't something I'm really concerned about. What are they going to take test scores and kids are going to change them or something? But that's not what is at risk. It's personal identities. The district is often the largest employer in the district. So they have lots of social security numbers and birth dates of students. Frankly, the reputation of the school system is perhaps the greatest thing that's at risk. And why, in fact, when school is shut down for a couple of days, some places they've actually paid the criminals, the ransom. And when you pay criminals a ransom, they figure, well, the old bank robber, why do I rob banks? It's because that's where the money is.
Balancing Responsibility in the Face of Digital Inequity
Audra: Yes, exactly. A score. So in terms of the responsibility though for trying to keep school data safe, student data safe, where do you see that responsibility line? Is it students, is it the faculty, is it parents to help guide kids when it's involved? I mean, where does that sit?
Keith: Well, I think there's every user needs to become more sophisticated about what's at risk. And obviously the school system needs to make sure that basic firewalls and other. Increasingly we see school districts implementing things like multifactor authentication so that they know that the person signing in is actually that person. In fact, school districts in the United States are required in order to get insurance or keep insurance to have multi-factor. But think about it, how do you do multi-factor with a kindergartner or first grader? It's not so easy. 
That's not to say they haven't come up with ways to do it, but it's not the easiest thing that we're dealing with. And the vast majority of students in our system are underage. So schools, the legal term is they have to act in parents as if they are the parents. When they're under the control, they have to legally require that when a student is accessing the school network, it's safe according to the Children's Internet Protection Act.
Now, those standards will vary depending on the community and the community requirements, but you have to have filtering. That's just been a basic requirement. Unfortunately, the biggest funding source for schools is the E-rate program, which has been a tremendously helpful program to get broadband and wifi to schools tools. But they haven't really prioritized cybersecurity. 
[18:32] Modernizing Digital Inequity
Keith: So they do cover, they have since the E-rate started over 20 years ago, covering firewalls, but they haven't modernized the definition of what a firewall is since 1990. So you're trying to buy, or 1999, you're trying to buy a product that no longer exists, and then you have to cost to allocate all the modern functionality out of that. So you can imagine trying to go out and buy a 1999 firewall, it just doesn't exist. But that's the way that it's defined in the rules. 
Thus school districts have to cost, allocate about two-thirds to three-quarters of the cost, of the modern cost of firewalls. And things like multifactor authentication are not covered under the current e-rate program. Now, our Federal Communications Commission, the chairwoman has said we need to do a pilot. And so they're talking about doing a pilot around cybersecurity over the coming months. She's proposed a three-year program for 200 million. Well, that will be a drop in the bucket. So we are encouraging them to do a one-year program with 200 million, prove it, and then fix the program.
Audra: So can we jump across the parents and around this, because parents expect schools to be looking after their children while they're with them and under their care. Unfortunately, all the efforts around student data privacy do very little to allay the concerns of parents. So there was a survey recently that showed 79% of parents cited privacy as a concern when their students use technology from school. And compliance with privacy laws is just not sufficient because these laws don't really address the issue at the heart of privacy concerns, and that's trust. 
Privacy and Data Security in Education
Audra: And so school leaders, online service providers, education associations, and other stakeholders must begin to build that trust around collection as a use of data. But how do they do that? And do you recommend certain policies and approaches to that?
Keith: Yes. Well, first of all, parents have a big role to play around privacy and security. Obviously, students don't just access things through the school-provided network and device. So many students are using their own, whether it's a computer or whether it's a mobile device that's in their pocket. And they probably have their own data plan, which probably is not filtered through the school district. 
So right away, even if the school network was perfect, and it's not always perfect, you have a challenge that families have access to a lot of things that may not be in a safe, secure area. So it's critical, I think that school districts and other community nonprofits help parents think about what their role is and what they can do. Especially when the student is on their own device. School districts also need to not only do better practices around student data privacy, but they also have to be trusted. You have to be able to convey that. 
And CoSN has created a trusted learning environment seal. One of the confusing aspects of privacy is that you get into this very legalistic argument of whether things are allowed or not allowed under very old federal laws, FERPA, or whatever. And I think those things are important. You do have to comply with the law, but they aren't necessarily all the best practices that need to be done today.
The Digital Inequity Challenge and the Trusted Learning Environment Seal
Keith: And so we have created the seal, Trusted Learning Environment seal, and it's in five buckets. So there's kind of a policy area, there's procurement, there's cybersecurity, there's training, and then there are practices under each one. And you have to achieve all 25 practices in order to get the seal. We call it the trusted learning environment seal because trust is at the heart of all of this. There are lots of concerns, but I think when school districts take the lead and show that they are adhering to the highest gold standard around privacy, that's where we see you can change the conversation.
Audra: Excellent. I was reading that Deer Park Independent School District recently won that. And they must be really doing something exceptional to win it. The question is how many schools have you checked awarded this?
Keith: Yes, it isn't. It isn't that you are just checking off, are you doing this or not doing this? You actually have to provide evidence, which we review on all 25 practices, and if you only get 19 of them, you don't get the seal. Now we do tell the school district, here are the ones you didn't achieve, and here's how other school districts have met those practices.
Audra: How new is this in terms of the seal that you're providing? 
Keith: The seal we've had for about, I think it's about eight years, and it's very ambitious. It's hard for school districts to achieve it. We are doing a couple of things to improve that. One is we want school districts to think of this as a continuous improvement process. 
Building Trust in Education
Keith: So if you had 15 of the 25 that you've achieved, if you can over the next six months, knock off another three, and then knock off another five next year, it's moving towards a better environment. We also are exploring right now, you either get the seal or you don't get the seal. We're thinking of some quicker ways that we can move people along the process when they get a certain level of it, which might help people see success. 
We know that it's hard to maintain a commitment to something as complicated as privacy when it takes so much work and so many pieces. It's not just the technology department you have to work with, to get the right policies adopted by the school board. You have to get teaching and learning folks doing teaching and learning around privacy, keeping things private. You have to work with the finance office around procurement. So yes. 
Audra: So a question for you across the United States, how many schools have actually achieved it to date?
Keith: So we have about 30 school districts that have achieved it, but there are obviously thousands of school districts. It's a very high bar, but we are starting to work with state departments of education. And I think getting states like North Carolina now are making it a priority. They're showing how school districts, so we're hoping that that will start leapfrogging to a much larger audience. And we know we have hundreds of school districts that have started the process. They just haven't quite achieved all 25 practices. However, scalability is always a challenge.
[26:54] A Journey into Tackling Digital Inequity
Audra: Yes, Indeed. And paying people to become educated in this area as well, I'm sure. So can we change directions and have a bit of a conversation about you? Are you happy with that?
Keith: Yes.
Audra: It's always quite nice to kind of know how you ended up where you are kind of thing. It's always because we get such interesting guests and no one ever seems to have a direct route to how they've ended up where they are. But what initially got you interested in EdTech and how has that shift focus come across over your career? How has it changed?
Keith: Fun question. I grew up in a family of educators, and I was the black sheep. I was interested in politics and policy. And so I went off to Washington many, many years ago and worked on Capitol Hill on telecommunications policy. Sounds really interesting. But actually, we were with Al Gore inventing the internet. There were all kinds of industry fights over policy regulating or deregulating the cable industry or telephones breaking up the system Nobel. And I wasn't interested in any of that. 
I was interested in how we use telecommunications to improve health education in libraries. So I started building coalitions around that, and CoSN became one of my early part-time clients almost 30 years ago. CoSN had existed for a few years, two years before that. So I am really a dinosaur in that I have worked for the same organization for almost 30 years. And yet the reason I stay is it's all about innovation and they keep letting me do new things, learning new things. I think artificial intelligence is the next new thing that we're we're into too.
Rachael: Yes.
Pioneering Digital Equity
Rachael: It's very exciting. So can I ask kind of a tangential question, Keith, since you have your telecom background, I'm getting a little back to this digital inequity. I mean, it seems to me internet access, is almost like a right, right? I mean, you have to have it to exist in today's society if you want to make a doctor's appointment, for example. So why isn't it available for free or are we ever going to get to that place where it's just because it's a commodity, right? 
It should be ubiquitous everywhere we go. When I lived in New York, you had the internet on the subway station lines. So you could do whatever you were doing on the subways and it'd be great to see that extended or are we going to get to that place where that inequity divides really, really doesn't become a factor?
Keith: I think you raise a great question. Unfortunately, so many policymakers and some of the public have said, well, it's just not that important. But it really is. And as you pointed out, it has changed kind of the way we do work. It changed the way we live. And I think some wise policy was done in the United States around connecting schools and libraries back 25 years ago with the E-rate program. 
And so we have pretty good connectivity at school in most places. There are exceptions, highly, highly rural, remote areas, places like Alaska, or whatever, but most schools are connected pretty fast. But the problem is students do a lot of work outside of school, and there are lots of families that either don't have or can't afford or are under-connected to be able to use these tools in powerful ways. 
Paving the Path to Digital Equity
Keith: So helping the public understand what's at risk when there are predominantly poor and minority families that are left behind. You're at a greater advantage if you can go home and do your homework and collaborate with your fellow students than if you're not able to do that or if you're on a data-capped plan that you're not connected for part of the month.
Rachael: Well, I look forward to that. Hopefully, it will change one day and people will say it is important. It just seems like a basic right to me.
Keith: You're right. It is a right, and I think one of the things that gives me a bit of hope is the pandemic Congress and President Biden have made a big priority of broadband. And so now that funding is still happening and rolling out right now, and we're connecting a lot of rural areas. And there are places in big cities, mobile homes, and low-income apartments that are not connected. So that connectivity, getting good fast connections can and will make a big difference and certainly for Will for Schools.
Rachael: Grant, can we come back to the AI mention too?
Audra: You can't stay away from AI, Rachel, you've got an AI obsession,
Keith: AI and cybersecurity are the gifts that keep on giving.
Rachael: Well, so you've been here at CoSN for 30 years and you've seen all of this evolution. I'm curious to see from your perspective in the next five years, I mean, how do you see AI playing a role here?
Keith: Well, who knows?
Audra: Next week or next month?
AI at the Crossroads: Shaping Education in an Era of Digital Inequity
Keith: I don't know that we were predicting last November as we headed into Thanksgiving, that generative AI, or what was called ChatGPT, would have the kind of impact across the world as it has. And I think we are though at a crossroads, a new industrial revolution. The World Economic Forum would say we're heading into the fourth economic revolution with driven by AI. 
And so as important as electricity was or STEAM was, or the internet has been for the last 30 years, all of those things still exist. We still have electricity, and we still have the internet and computing, but AI is giving us the ability to do a whole variety of things that we never thought were possible before. I hope that educators will both see the opportunity and they will do it thoughtfully. So they put in guardrails so that bad things don't happen because we didn't consider them. But across all industry sectors, they say there's about a 30% productivity benefit when you apply AI to do some of the routine things that we've been doing. 
Well right away, I think that educators can certainly think about, whether it's lesson planning or planning the cafeteria lunch or bus schedules, or the school schedule. Those are really easy, low-hanging fruit. The big challenge will be what can and should be used in the classroom. What is cheating?
Audra: Calculator
Keith: This brings me back to the old debate about the internet. It means we're going to have to do different kinds of assessments. 
[35:37] AI's Role in Redefining Education Amidst Digital Inequity
Keith: Things that are factual, yes, no, or what is the capital of Sweden is easy to find out and isn't probably what we should be testing students on asking why is Stockholm the capital of Sweden. And putting forth various questions and things, so theories. And I think we're going to have to just provide written essays to get into college. We're going to have to make sure that they're cited, that they're factual, that they reflect the student, not some five-minute, 32nd generated yesterday that ChatGPT created.
Rachael: That sounds like a tall order, Keith.
Keith: I think it is. 
Audra: I have to admit, I've seen some of the ChatGPT work, and I still think it all depends on what you train it on in the first place as to how compelling it is.
Keith: Absolutely prompt is the new literacy and who a year ago would've used the word prompt? But I think that schools are going to have, everyone's get better about what questions we're asking. And I guess that's called a prompt in AI, but we ought to ask good questions, which is what you two are all about, right?
Rachael: Awesome. Well, do you have any parting thoughts for our listeners, Keith, because this is such an important topic, and I'd love to leave them with some kind of words to think about?
Keith: This isn't about AI. This is going back to your equity questions early on. I didn't mention that we've launched a new digital equity dashboard, and the interesting thing about that is it's taking publicly available data. 
Unveiling the Digital Inequity Dashboard
Keith: A school district could have gone out if they had a big research department, which most don't. And they could have looked at a whole bunch of varieties like broadband speed or poverty levels or all kinds of health indicators. But what we've done is we've taken 35 different indicators and put it all in one dashboard, and you can correlate those and it aligns to the school district boundaries. So that has never been done before. So we're really interested in seeing how school districts use this free digital equity dashboard. 
You can find it on our website, cosn.org/digital equity, and how they use it. Some school districts are going to add on top of that their student information system, which only they would see that data and they could get it down to the specific family or student. So that's what the power is. I mean, we can have lots of surveys, we can have lots of generic information, but let's take what's publicly available out there and see and ask those questions around equity.
Rachael: I love that. I love, that we keep hearing kind of this common theme mantra of these free resources available to these critical communities. And the power of being able to take that kind of data analytics to make a critical decision making is just so important. So I imagine that was a lot to put together, Keith, but thank you for that. However, we can help those that don't have the resources to get there. It's just so important. All boats rise, for sure.
Keith: Thank you.
Rachael: Well, I guess that's all we have today.
Bridging the Gap
Audra: Just getting the message out there. It's one thing because the thing is there are so many free things available that can help. It's just that awareness. So that's why I really appreciate you coming on and getting your message out there, Keith.
Rachael: Thank you. I do want to say we will put the link to the digital equity dashboard into our notes, our description for this episode, so folks can easily find it. So I hate for these conversations to end, but it's called To the Point, unfortunately. So Keith, thank you so, so much for joining us today. This has been a wonderful conversation and I learned so much. 
And that's what I love about when we do these. You share so many insights on these critical needs and these critical themes that people aren't talking about as much. I hope we've shined a light on a lot of our listeners and hopefully given them some new resources they can pursue to help address a lot of these challenges that our school communities are facing.
Keith: Thank you. And hopefully, you're having some fun with your dog.
Rachael: That's why I was on mute for a lot of the podcasts. Well, to all of our listeners out there, thank you again for joining us this weekend. And again, don't forget to subscribe. Just smash that subscription button and you get a fresh episode every Tuesday. So until next time, everyone, stay secure. 
About Our Guest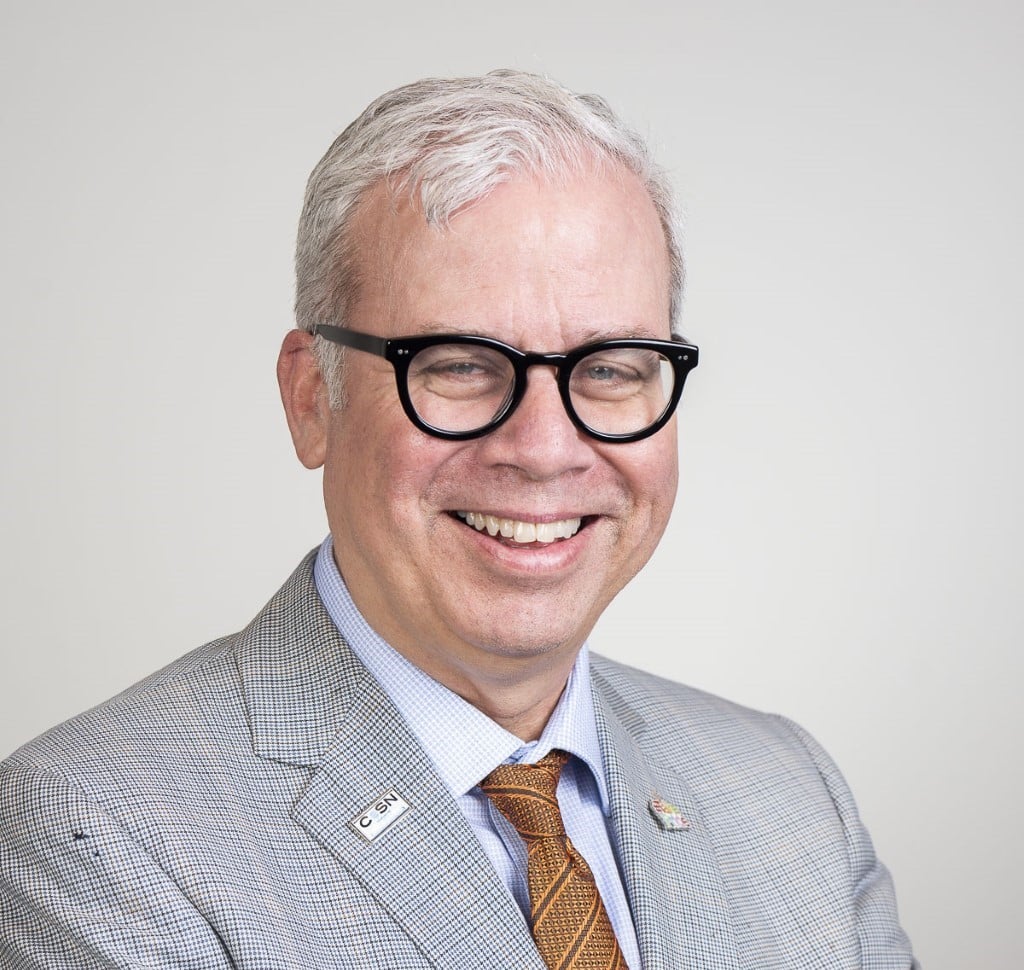 Keith R. Krueger is CEO of the Consortium for School Networking (CoSN), a nonprofit organization that serves as the voice of K-12 school system technology leaders in North America. CoSN's mission is empowering educational leaders to leverage technology to realize engaging learning environments. He was selected by Ed Tech for its 2019 30 K-12 IT influencers. In 2016 Technology & Learning selected him as one of the "big 10" most influential people in Edtech. And the Center for Digital Education identified him as a Top 30 Technologist/Transformer/Trailblazer. In 2008 he was selected by eSchool News as one of ten people who have had a profound impact on educational technology over the last decade. In 2016 he received a Special Recognition award from the Council of Great City Schools.
Listen and subscribe on your favorite platform