How Do You Redefine Winning in Cybersecurity, When You Can't Win?
Cybersecurity is an industry rife with paradoxes and trying to get ahead of today's vast threat landscape can feel like an endless loop of Penrose steps. This week's guest Marilise de Villiers, co-founder and CEO of ROAR Consulting & Coaching shares insights on how to break the vicious cycle in an industry where the burn out struggle is real - particularly during the last year as the line between work and home vanished.
Marilise shares details for building a personal toolkit for success that not only helps individuals build resilience but can also help organizations shape cultures that support security-first mindsets that truly make your people the strongest front line of security defense. Key to success? Defining what good looks like and redefining winning in cybersecurity when winning is seemingly impossible. Visit Marilise's site to learn more: https://www.marilise-de-villiers.com/find-your-roar
How Do You Redefine Winning in Cybersecurity, When You Can't Win?
[01:03] Tame the Bully Inside and Out

Rachael: We have the best-selling author of the book, Roar!: How to Tame the Bully Inside and Out. She is founder and CEO of Roar! Coaching and Consulting, Marilise de Villiers. 

Marilise: Thank you so much, Rachael. I'm so delighted to be here.

Rachael: You have an amazing story. I could talk about you the whole podcast. We talk a lot about self-care, and mindfulness. You walked away from a pretty big career in a big-four consulting firm to start your own business, Roar! I love this on your website, "Turn thoughts, feelings, words, and actions into your four superpowers." This is amazing, especially when we think about everyone in the cybersecurity industry. They need tools for success. Can you tell us more about your Roar! blueprint, how you came up with it?

Marilise: It was very much a case of leaving a corporate job that burned me out because of a bully at work. Initially, I thought it was a bully. But then, as time passed, I was doing the inner work to come back from the dead. It was very much a case of recognizing my inner bully. Then recognizing how it was really a lifetime of self-doubt and self-abuse, as I call it, which has really influenced my behaviors in the workplace. Really just sent me on a very cathartic journey, especially when writing the book.


Winning in Cybersecurity Is a Cathartic Experience

Marilese: Some things that I've put in my past, which I thought I'd dealt with, I had to sort of reopen those cans of worms.

Eric: As you're writing, you're thinking about it. These emotions, these feelings, are coming up.

Marilise: Yes. I said, cathartic experience already, but it's really quite hard. Because what you do is, you rip those plasters off, and you open them. You kind of put salt in the wounds. But that's necessary to sometimes really bring out your best self. That's really why I'm so passionate today, to help people live their best life. And that's really what the blueprint is all about, the Roar! blueprint. It's a blueprint for living your life on purpose, in your power, and with the courage to speak your truth, to roar.

Eric: What do you mean by, in your power?

Marilise: If you can imagine you and your personal power, I always sort of touch my gut area, because it's really about digging. I always say, "digging deep," and really finding that inner strength, and that courage to speak up, to roar. That comes from your mind, your body, and your breath, which is really how everything hangs together.

Marilise: So, you can imagine your thoughts and your feelings and your beliefs, I call it my inner game. You've got to really develop that mental stamina every day. And then, of course, your physical stamina, which are your words and your actions. It is really about how you show up as your best self every day.

Eric: You know, it's interesting. I joined the Army at 18, the US Army. They used to teach us to speak from our diaphragm.

Speak From Your Belly
Eric: But they would say, "Speak from your belly," and to this day I'm getting yelled at by everybody because I'm very loud. I learned that early on and you talk about touching your belly almost like a physical reminder of that projection. I just went back to being an 18-year-old private in basic training, where they're teaching you to speak like that. But you carry that with you.

Marilise: If you look at how a lion roars, they also roar from there, way really deep down in their diaphragm. It's incredible to watch them actually roar, as well. Obviously, with my South African heritage, and you know, just the whole essence of what I'm all about, Roar! just seemed so perfect for me.

Eric: I think it's great. The image on your website of the woman in shadow, with the lion shadow coming off. That's absolutely great artwork.

Marilise: My cousin actually designed that. He's a professional graphic designer, illustrator in Cape Town. When I decided to write the book, I knew instantly that I wanted him to do the artwork for my book. So, it's also the cover of my book.

Rachael: This is a great kind of segue. We talked about this last year, working from home. It's taken a toll on a lot of people. There's an extreme change in how we work and a lot of people are at a crossroads in life. They love working from home. But there's all these other things going on, and having a Roar! blueprint, like a tool. We talk a lot about resilience and how you move forward with success. What are your thoughts on that? How the last year's played into this, and the benefits of having a toolkit like this?

A Mental Health Crisis
Marilise: Let's just face it. I think the whole world is having a mental health crisis. It's just absolutely everything was completely taken out of our control. I think that's the sort of essence of what happened over the last uncertainty. The fact that we just didn't know what was going to happen. And the first phase of COVID was very much sort of a resilience versus adrenaline-response, like a quick-fix response. We thought maybe six months down the line, this will all be away. Of course, 12 months later, we're still in this situation.

Eric: 15, 16 months ongoing. It's really difficult.

Marilise: There's a third wave and we don't know if there's going to be a fourth wave. All of that anxiety builds up. If you don't have the reserves in your tank to cope with that, I call that something deeper than resilience. I call that, mental and physical stamina. Because that's the dig-deep piece. If you don't have that, you are going to run out of gas, you're going to run out of fuel. If you use the cell phone or mobile analogy, you won't ever let your phone go beyond 30%. You'll plug it in and it will charge.

Marilise: Why not recharge your own body, and why not refuel your own body? Also, the mind, we all talk about physical exercise, nutrition. My nutrition and my physical exercise is my number one priority. I call it my non-negotiables. But the mental stamina, the "innercize". I have to say, the last 12 months, or 16, 18 months, the mental health conversation has really catapulted. It's normalized a lot. We see a lot more about it, which is really encouraging.
[09:35] What You Need to Keep Winning in Cybersecurity
Eric: But, you know, it's not taught to the same extent. In the States, at least, we have physical education, gym class, that's taught from early on, where you're at least taught something about the physical side. Mental health isn't taught in the same way. In fact, I would argue some people, some kids, never have any access to it.

Eric: Like, if you don't have insurance, and even if you have insurance in the States. I'll only speak to the States, which is what I know well. It's still really expensive, and really difficult, it's mostly unavailable. So, you're right. This is what you need as much as that physical, that nutrition, that dietary, the exercise to clear the head. You need the ability to control your mind, too.

Marilise: Absolutely. It's one of my biggest bug-bears, the fact that my kids are not taught these life skills at school. And why I'm also in the process of early stages of design, a role for young adults. I do think that the conversation is about how the brain works. You know, the impact of stress on the brain, because I think that, for me, is the bit that really fascinates me. How I know, as a young girl, how my brain was actually altered as a result of trauma.

Marilise: How that's been linked to a heightened stress response. Which then I took into my adult life and into the workplace, and it sort of transpired as really high levels of anxiety. I just didn't understand until about three years ago, until I wrote my book.

Fuel and Power for the Self
Rachael: I think of the headlines recently. Was it Naomi Osaka, the tennis player who opted out of the media interviews for the French Open? She ended up withdrawing from the tournament, because it's almost like this dirty word, too. It's like you're not allowed to say, "I'm really stressed out, I'm really exhausted. I don't want to show any weakness." I think everyone feels that way right now.

Rachael: They literally just don't have a toolkit on how to manage it. And they actually kind of turn it around into this fuel and power for yourself if you just know how to kind of frame it. I just think this is such an important conversation right now. I have to admit. Last week I was off for the first time in, I don't know, 20 years. I actually turned my phone off for two whole days. Two whole days I had it off and I didn't check my email.

Eric: Out of five.

Rachael: But, it was amazing. Those two days were amazing.

Eric: Big accomplishment, but think about that. You get 40%.

Rachael: That would've been. I don't know if I could go three. I felt like this minor accomplishment, you know, like this serious win. And I could tell what a difference it made, in just kind of shutting off for just that little bit of time. I think having more of these conversations with folks on how to find those little wins for themselves. To kind of bring yourself back from the brink, is really important, especially in security, because it's such a high-stress job. Have you worked with folks in security, Marilise? Any observations there?

It's Okay Not to Be Okay
Marilise: Oh, absolutely. Last 10 years, my specialty has been in cybersecurity, so I've done a lot of work, and it's crazy. It is absolutely one of the most stressful environments that I've ever been in. And it's no wonder that the average tenure is anything between 18 and 26 months, because they just burn out.

Marilise: Rachael, I want to pick up on a couple of things that you said, which are two tips. You talked about tools and tips. Before we kind of move on and immerse ourselves into cybersecurity, I just want to pick up on two things you said.

Marilise: The first thing was about acknowledging that mental health conversation and acknowledging when you have a mental health problem. And I always say, I absolutely think the press and the way they handled that whole situation is just shocking. I'm not going to go into that now, but it's okay not to be okay. So, that's the first thing I wanted to say. 

Marilise: I have said it to people so many times. It is okay not to be okay, especially to the men out there. We don't always have to pretend we know all the answers and we're strong, and we've got this. If you're really having a tough day, take someone into confidence. It's okay not to be okay.

Marilise: The other thing that you said, which I absolutely loved, is to celebrate small wins. That was the biggest lesson that I learned recently in preparation for my Ted Talk. After 42 years, I've still not learned how to celebrate small wins. Really, the little things are everything.


Winning in Cybersecurity Requires a Change in Mindset
Marilese: If you really just change your mindset, you reframe your mindset, you can see all those little miracles in your life. Then the gratitude comes, and the appreciation comes, and suddenly, there's a switch. I think that's so important.
Eric: Why do you think it's so difficult to recognize and celebrate those wins? Because you didn't have the background learning how to do that growing up, or something else?

Marilise: It stems from the sort of deep-rooted, and I call it, my inner bully. Often people call it the inner critic, you know, the inner villain. People call it different things, but I call it my inner bully. It is really the part of my brain that tells me that I am not good enough. You know, I'm not pretty enough, not smart enough, not clever enough, never enough. That's age-old conditioning that I was probably born with to an extent. We sort of bring these things over into our lifetimes.

Marilise: But, it's really important that at the end of the day, to recognize that conversation that you're having with yourself. I think often, the most toxic relationship that a lot of people will ever be in, is the relationship with themselves. Then you start believing all those lies, and that's where we've got to really work on interrupting those patterns. Those negative spiraling patterns, to actually rewire. That's what my Roar! framework is.

Marilise: I have a four-step Roar! process, which is really to interrupt. So, recognize the thought, touch it, observe. Separate yourself from the thought, because you are not your thoughts and your feelings. And then you assert.


Empowering Thoughts
Marilese: You create a new thought, which is a more empowering thought, and you then redirect. Redirect your thoughts to what's more empowering thoughts, more often, so that it becomes new beliefs, and empowering beliefs. The Roar! process that I developed, the four-step Roar! process, applies to conversations you're having with yourself. It applies to conversations that you have with others.

Eric: You found that that builds up over time, I'm assuming. Confidence in yourself. You get better at it. It's like anything you do. The more you practice, the more you do it, the more natural it comes, the better you become. Therefore, the better you are in life.

Marilise: Absolutely. That's when it goes from just a belief into a habit, so you have to really practice and practice and practice. The difference between a behavior and a habit is that a habit is just automatic. It's like how you get in the car and you drive off. You don't think about how you're actually going to drive off, you know, you brush your teeth every morning.

Marilese: You don't think about how you're brushing your teeth. It takes so much repetition and so much practice, and especially to undo and unlearn bad habits. Because they are so automatic and so wired in. Especially, the older we get, the harder it gets then, to unwire bad habits.

Eric: If you're working with cybersecurity companies, then, and let's assume some of the clients have bad habits. You're trying to "rewire them?" Or change, get them to look at things differently? How does that work?

Marilise: When you look at changing behaviors in a workplace, especially embedding. The whole premise of my work is embedding secure mindsets and habits into organizational cultures.
[18:35] Redefining the Meaning of Winning in Cybersecurity
Marilese: This is about adopting a set of secure behaviors that really become part and parcel of the way we do things around here, our DNA. Typically, it's first of all, defining what good looks like. What are those good behaviors, those four or five good behaviors? Security behaviors.

Marilise: Of course, we want to link that up with the security culture of the organization, the overall culture of the organization, the values of the organization. Really defining what good looks like, and then holding people to account and measuring those behaviors. But at the end of the day, it's not what you do, it's how you do it. People will only change if they want to change, and if there's good enough of an incentive to change. So the way we approach it is really important. It has to be a heart and mind approach.

Eric: When I talked to infosec personnel, to the cybersecurity people I've dealt with, they're guaranteed. The adversary has all the advantages. They only have to get through once. We've talked about it a ton on the show. You're guaranteed to fail in the traditional sense. I love what you said about what good looks like. It's almost like, how do you redefine success knowing that you will never have a 100% efficacy rate? It will never be perfect.

Eric: I don't think we talk about that enough. I don't think people understand that enough in this side of the business. You can't win, unless you redefine winning. Winning has to be defined as how do we block the majority of the bad stuff coming in. Then, once the adversary is in, or once we have a problem, how do we deal with it?

Your Strongest Defense
Marilise: That's absolutely where the people component comes in, where people become critical, where people can become your strongest defense. You're no longer relying on technology, because people break the technology. But it's thinking about how people are empowered to then speak up. To roar as quickly as they know about something. So, either they suspect something, or they have done something, but the key is that they feel empowered.

Marilise: Unafraid to then say, "Something's happened, and the quicker we know, the quicker we can then do something about it." And that's really where more of the emphasis has to be. It has to be that business resilience conversation. So if the bad guys are already in the system, we just have to make sure they don't get to the crown jewels. So, how do we minimize the impacts? It has to be a combination of people, processes, and technology. You cannot ignore the people's elements.

Eric: So, when you meet with organizations and you talk to them about this, what percentage are surprised? What percentage are, "We absolutely understand and agree with that, and we're aligned." What do you find?

Marilise: I think people understand this stuff intellectually, conceptually, and so I might be very controversial in saying this. There are lots of people who really get this, but I would say, more often than not, I don't want to put percentages on this. There is very much an intellectual conversation happening around. We know this is important, but because it's culture, because it's people, it's too hard, so we kind of ignore it. Or we create solutions that are easy, like phishing simulations, and things that are just quite tick-boxy.

Check the Box
Eric: Right. Check the box, compliance driven. I was going to say as you were saying that people intellectually understand it. I'm relatively controversial, not as bad as Rachael, but I'm close. Just kidding. But, I don't think organizations understand it at all. They like check-boxes, it gives them something to report on. It gives them something tangible, and a lot of this just isn't tangible.

Marilise: This is where I'll get a little bit controversial with you, Eric. I do think it's more tangible than people believe it is. You can measure culture, you can measure behavior, you can measure the effectiveness of those things. But the problem is that people don't set up from the beginning, so they don't create a visible strategy. And you know, it comes back to what good looks like. What are the top five behaviors that we want to embed in the organization? Let's define those behaviors.

Marilise: Let's agree how we're going to measure those behaviors before we start implementing solutions. What's the problem we're trying to solve here? What are the risks we are trying to mitigate, before we jump into solution mode. So my question goes back to how many organizations out there have a three-to-five years culture strategy for embedding secure mindsets and habits into the organizational culture?

Eric: Greater than 5% or less than 5%? What do you think?

Rachael: I think you're probably right.

Eric: Especially larger ones.

Rachael: Definitely. Because it's hard. I think to the point, right? It's very hard and you know, it's like we talked about security. You can't go back. Retrofitting security at the back end is very hard and complicated and expensive.


Winning in Cybersecurity Is the Desired Outcome
Eric: We do it all the time. I can't tell you how many conversations I have about risk. Or I'll ask a question, "Help me understand your desired outcome," And it's almost like I asked this advanced mathematical calculation. Well, I want to buy X. No, but what problem are you trying to solve? What is your desired outcome?

Eric: Then, it's almost like somebody's reading the marketing slick sheets back to me. It'd be either myself or our business or our competitors. It's a difficult question for people to grasp sometimes, because culturally we're not programmed. We're not wired that way.

Marilise: I will just give you a little bit more in-depth explanation. So, the approach that I developed, I published research in 2013. This is like, seven-plus years ago now, which was with the information security forum. The research was called, From Promoting Awareness to Embedding Behaviors. It's, let's move away from a winner's approach, it's a tick-box approach. What does it take to embed secure behaviors?

Marilise: Secure by choice, not by chance. That was kind of a very lengthy title of the report. I still use that approach today. But essentially, it's a risk-based approach, and it's a very collaborative approach. So, you don't develop solutions without people having skin in the game. Without people being consulted and really understanding the business outside of cybersecurity.

Marilise: The risk-based piece is absolutely critical, because that's where you're going to look at what is the data telling us? Where are the exposures? Then we're going to get really quite clever about how we actually design our solutions. Because we have level one, which is very much applicable to everybody in the organization.

Higher-Risk Audiences
Marilise: It's really all their engagement and communications that will give you that baseline. Then you have level two, which is your targeted intervention. So, this is where you have higher-risk audiences, where you've got to give them something more than just the baseline. They need additional skills and capabilities to perform their roles securely.

Eric: That might be like a sys-admin team, or somebody like that, as opposed to somebody in marketing or finance.

Marilise: Exactly. But you've got to do that analysis and properly do that analysis to be able to know what solutions are applicable to which audiences.

Marilise: Level three is where the behavioral change happens. I call it, moments that matter. You can call it, high-risk touchpoints. But it's essentially those critical moments where people interact with systems and data, where their decisions can either make or break the organization. So, they have to make the right decision in order for the company to be secure. Whether that's 5, whether that's 10, whether that's 20, depending on the complexity of the organization.

Marilese: What are those moments that matter, and what are those level three type interventions? That is really going to move the needle on culture. That level three layer is also where you typically have your leadership interventions. Where leadership plays a critical role in setting that example and sponsoring security culture. We know that leaders' costs are very long-shadow in the organization. As they behave securely, others will follow. Basic principles, but when it comes to execution, we really fall down.

Marilise: The other area that I always promote here is champions programs. Looking at what role can champions play in translating security into the business functions that they work in, to make it real for people.
[28:25] Winning in Cybersecurity Requires a Three-to-Five-Year Strategy
Marilese: That's like level one, level two, level three, and that's normally how I develop the strategy, the three-to-five-year strategy. To say, "These are the types of solutions we've got to implement, but it's going to take us time. And even after five years, we're still going to keep going with this. This is never going to go away."

Eric: And organizations, there's transfer, people move in and out of positions. It's really difficult, because they don't have that institutional memory to understand why we set something up, when we started, how we're doing. The persistence to continue through major cultural changes. Three to five years today is a long time for an organization.

Marilise: It's very, very long, and that's why it's so important to bank the wins on the way. To demonstrably evidence as you go along, and to have their sort of succession planning in place so that you don't lose that. You don't have that brain drain without having the retention of the knowledge, and that comes back to your culture, as well.

Marilese: You know, if you have an engaged, loyal workforce, people will go out of their way. They will go over and beyond to ensure before they leave the organization, that there is retained knowledge and experience. But that very much comes back to the organizational culture and whether the actual people care about it.

Eric: Rachael, we go back a couple of years, two or three, when you were starting in the business. If you entered a company where you had a culture, or a team, or leadership where they taught you how to understand what good looks like.


How to Handle the Losses
Eric: Feel good about the small victories, feel good about yourself. Learn how to handle the losses, when you don't win something. How do you think that would've shaped your career or changed your mindset?

Rachael: Honestly, I feel like I've actually been lucky to have a lot of that throughout my career.

Eric: Well let's change the question then. How did it shape your mindset?

Rachael: You know what you're working towards. Not only did I have clear expectations of what good looks like, but there were also model behaviors. There were the champions there that I was fortunate to get to work with as I was coming up. So, I learned good behaviors early on. I was fortunate to take those with me to companies where there weren't good behaviors. So I was able to kind of impart those to my team, or to the folks that I worked with.

Rachael: And then you'd go to another company and there's a great behavior, so I learned some new skills. It kind of went back and forth throughout my career. But you can tell when people don't have that, and it's very hard, because everyone just wants that clarity. Like you just want to know, so "Hey, I did a good job," versus "Thanks for showing up to work today." You want something a little more tangible.

Marilise: I think people thrive on that sort of specific, tangible feedback. Whether it's good or bad, it has to be very specific and also, what do you expect them to do differently? Normally, it's difficult feedback that's hard to give. The specificity in that sort of detailed feedback is hard when it's not positive feedback. But, I think it's so important.


Develop the Skills That Determines Winning in Cybersecurity
Marilese: People thrive on feedback, good or bad. Of course, if it's not great feedback, you've got to ensure and reassure them that they are supported. That you will help them develop the skills, or whatever is required to develop the skills. But, it's really key to create that sort of high-support, high-challenge environment.

Marilese: You've got to use high challenge, high support in equal measure as a leader, as a liberated leader. What I see a lot in security functions, some security functions, is a high challenge with virtually no support. That's where you get the burnout. That is where people, at their wits end, hanging by a thread, about to snap.

Eric: I think a lot of people are just so overwhelmed because of the sheer amount of work, the lack of people in the positions to fill them. So people are doing more and more and more, and they don't have the time to give the feedback. Not that it's a good excuse, but it's hard.

Rachael: It's time to keep your head above water, just doing all you can and it's hard to take the time to do the other. But, when you can make the time, I've seen the difference it makes. You see the high-performing team, the manager's given the feedback. Took the time for the one-to-ones every week, and really given that time, versus the ones that aren't.

Rachael: By and large, the ones that aren't getting that are leaving the company and moving on to other things because they need that. They crave that, and if you don't get it here, they say you leave managers, not companies. You're going to go somewhere where you feel like you're getting that fulfillment.


The Highest Priority for Leaders
Marilise: My challenge to any leader is that developing your people has to become your highest priority. Over and above everything else, you must prioritize developing your people. Because at the end of the day, people are only differentiated, the only competitive advantage you have. Let's just face it.

Eric: Especially when people make the products, the people sell the products, the people support the customers. You're absolutely right. People who are motivated and happy and care, it just makes that whole cycle.

Marilise: And people who feel safe, so there was a study done by Google. They did a study for their teams, and they looked at the top five things the teams need in order to be high-performing. Psychological safety came out on top. So, team members are wanting to feel safe to take risks and to be vulnerable in front of each other. That was the number one priority.

Eric: That is so difficult to convey, because we can't guarantee jobs, and theoretically, in cybersecurity at least. I'll speak for the industry I know well. There are so many job openings, you can always get another job. If you make a bad decision and somebody fires you, you can always get another job. So, it's relatively low risk. Yet, I still see a ton of resistance to leaning forward, to making big bets, to taking huge risks, which is what we need. And I think it's back to, how do you feel? Do you feel safe? People, they don't want to make a mistake.

Marilise: This is what makes culture change so hard, especially when you're a security function with an ambition to embed secure mindsets and habits.

 
[36:01] Establishing the Right Culture for an Organization
Marilese: You cannot do this without the support of the business, because you are so dependent on the culture of the organization overall. So, if the organization does have a culture where there's fear, or there's consequence management, we have no chance as a security function to actually embed those secure mindsets and habits.

Marilese: Because the number one behavior that we rely on is if you suspect it, report it. So, why would someone report something if they're going to be blamed afterwards, if they're going to be let hang out to dry? I might have that very wrong. This is where my second language creeps in sometimes, and I say things which I don't even know exist in English.

Eric: We're fully onboard so far.

Marilise: Hang out to dry. Is that the thing?

Rachael: Yes, it is.

Eric: I think it goes back to laundry, the way you might hang it up on the line. I'm with you. I know exactly what you're saying.

Marilise: So, you're missing the serious point I'm making here, which is really about people. We can only influence culture if the overall organizational culture is conducive to secure behaviors. How many times are we trying to go at it alone as a security function? The engagement for us, in terms of holding the business also accountable, engaging with HR and training and development. All those key stakeholders that can really help and support us, that can become our biggest champions. How much are we doing to actually win their hearts and minds when we approach a big program like this?

Rachael: It's an important conversation to have now, too. As we talk about the implications of security in business today, they're so interconnected.
A Wholesome Shift
Rachael: You know, they can't be separate functions today. It is like a wholesale shift. Thinking of, when you look from the top down of how you approach business today and thinking with security kind of integrated throughout every aspect of the functions.

Marilise: That's really wise. If I look at Roar! and what I am all about, I always say I tackle it top-down and bottom-up. The whole thing is, I work with individuals to empower the individuals to find that inner strength, that confidence, and that courage to speak up. But also, work with leaders and HR to create cultures that are safe and inclusive so that people can thrive. But the two have to work together.

Eric: They have to, because if not, you will get less out of the employees. They will be less satisfied. You'll have increased turnover, more friction in the business, and you're just not optimizing the business. I quickly looked up the phrase, "Hung out to dry." It comes from laundry. It's traditionally looked at to be abandoned or left behind.

Eric: You would hang your wet laundry on the clothesline, and you'd leave it there for hours in the sun to dry. But in this context, I like checking off boxes and making sure I'm accurate. In the context you used, it's really to be abandoned or be left behind, especially at a moment or time of difficulty.

Marilise: That's exactly what happens. So, it's really quite fitting. It's that sort of retaliation that happens.

Eric: Or lack of support when someone is having a difficult time.

 
The License to Roar!
Rachael: Absolutely. Can I just make a side comment? I would love it if I came to your website and there was a sound.

Eric: A roar?

Marilise: This is where I am hoping to get in touch with Katie Perry one day, and get the license.

Eric: We're working on her for the podcast, so we'll see who gets her first, you for your podcast, or us.

Marilise: Please tell her to give me a call.

Rachael: I would love that all day long. This has been an amazing conversation, Marilise. Thank you for all these fantastic insights. We find it's not easy, but if you take it step by step, it's achievable. That gets lost a lot of times. It can seem so insurmountable, but it's not. You break it down, define what good looks like, make a plan to get there, have your milestones, and you can get there. It sounds simple, but I guess people forget that part and just get lost in all the stuff.

Marilise: It's with anything in life, in any habits. You look at just your personal life and any habit that you're looking to develop, like a health habit for example. The best way to do it is little and often. Especially with cybersecurity communications and engagement, it's so important to give people that constant reminder of the importance. Doing it in a way which is always fresh and inspiring and new, and really helping people to understand the psychology behind it.

Marilise: At the beginning we talked about how the brain works. Why we do not tell people more about the reason why they clicked on a link is because the hackers tricked them. Because they used psychology.


The Process That Ensures Winning in Cybersecurity
Marilese: This is the process that they went through. It makes it more interesting to actually understand this from a scientific perspective.

Eric: I had that conversation with my 13-year-old son who plays nothing but video games. I'm like, "These games are meant to trick you, to get you to play more." His response is typically, "I know, I enjoy it. It's great." Then the homework doesn't get done. COVID has not been good for that. Where can we find out more about you and the work you're doing? We've got the website. You've got a podcast. We can buy the book at Amazon, or any local bookstore out there. You do coaching and consulting.

Marilise: You can get in touch with me on LinkedIn, it's the main platform that I use. But I am on the other ones, as well. Facebook, Twitter, Insta. TikTok is next on the list. Not ready yet to dance, my 11-year-old will be absolutely horrified. You can drop me an email at marilise@marilise-de-villierse.com. There's various ways to contact me on my website, too.

Eric: We'll include that in the show notes. This has been a fascinating conversation for me.

Marilise: I really enjoyed it, as well. I always love engaging with my US friends. There's a sort of a South African-US connection, which is expressive. Sometimes it's just a nice little reminder. It reminds me of home, so thank you for your generosity and hospitality.

Rachael: Absolutely. Don't forget to subscribe to the podcast. Get a fresh episode delivered to your inbox every single week.

Eric: We're 4.6 out of 5 on iTunes. We've got to raise that up even more. But that's a small victory.
About Our Guest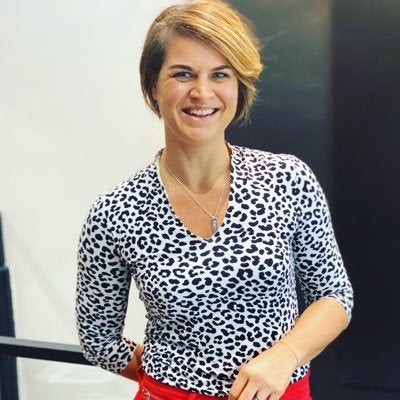 I am Marilise de Villiers Basson, the founder & CEO of ROAR! Coaching & Consulting. At ROAR! We are passionate about people living successful, fulfilled and healthy lives. I am an Executive Coach, Best-selling Author and Behaviour Change Strategy Consultant that specialises in Finance, Technology and Cyber Security Awareness, Culture & Talent. I've led the design and roll-out of global behaviour change programmes – in consulting, research and operational delivery roles – across a broad range of industries over the last 22 years.

In 2017 I had a successful corporate career, as an executive in a Big Four consulting firm. However, my success came at an enormous price. I was on the brink of a nervous breakdown - mentally and physically exhausted. My relationships with the people closest to me were suffering. My decision to quit was one of the most difficult things I have ever done. Along the way, I learned a critical lesson: whatever you want in life you can have. I learned to reset my thinking and discovered a blueprint for creating a successful, fulfilled and healthy life. It's called ROAR!

When published in 2020, my book ROAR! How to Tame the Bully Inside and Out reached Amazon best-seller status in the HR & Personnel Management category. Since then, I've helped many female executives and high achieving women with my ROAR! Blueprint. My four-step ROAR! Process (Recognise, Observe, Assert, Redirect) helps you to face difficult conversations – with others and yourself – head on.
I am South African-British, married to Heinie and we have two sons. My motto is: Work hard, play hard and be kind.
Listen and subscribe on your favorite platform