Enhancing Zero Day Protection for Organizations Across the Globe
The problem many organizations face today: How do they defend against attacks they've never seen before? According to a Micro.ai & Ponemon 2020 Survey:
80% of all successful data breaches in 2019 directly resulted from zero-day attacks."
Zero-day attacks are a constant threat looming overhead, and for good reason: waiting for the signature of the attack to defend against it could be too little, too late for many companies. Organisations take great care to secure their networks, but even with all of the detection-based defences protecting those networks, we're all still at risk.
Register to watch a live demo on the impact of zero-day attacks, coming 29 September.
Why are Zero-Day Attacks Dangerous?
How Do We Stop Zero-Day Attacks?
Instead of looking for already known, potentially malicious code. We must change our thinking and our defences to assume that all data entering the network is malicious. Only then are we able to stop zero day attacks.
Skip the waiting game and join Dan Feaver, Presales Architect at Forcepoint, for a live demonstration on how a shift from detection to prevention can stop the attacks of today, as well as the attacks of tomorrow.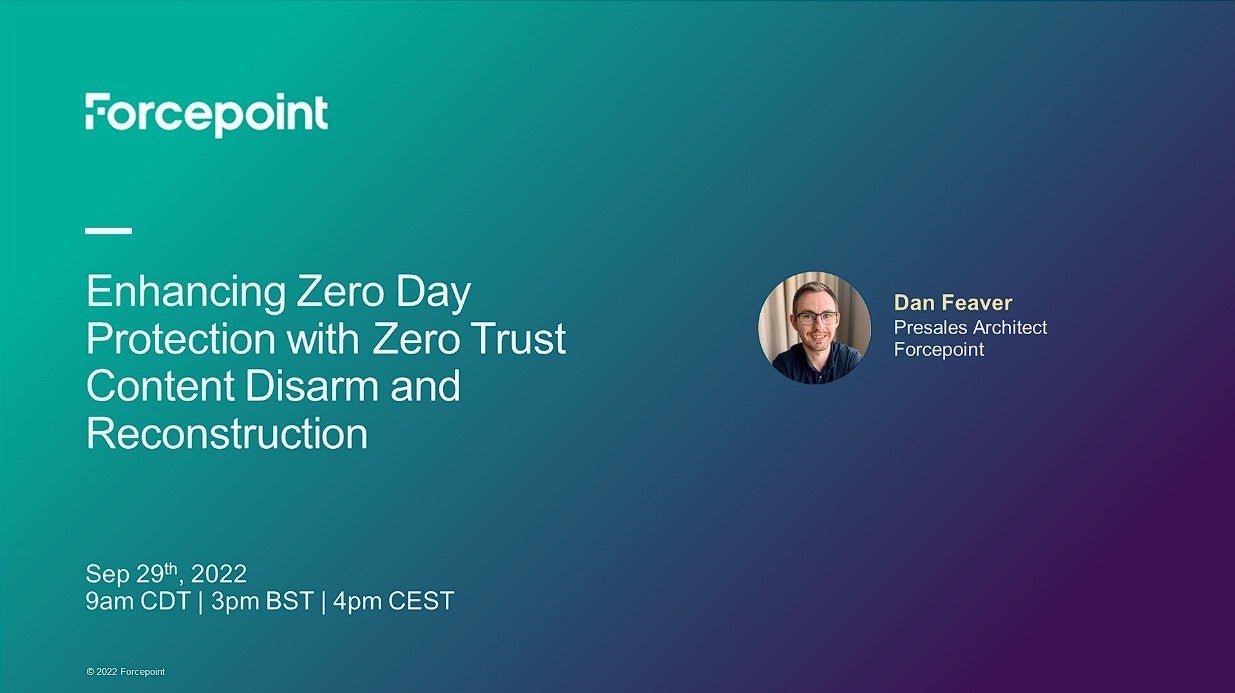 Register now to watch the 29 September webinar live or to receive an on-demand video after it airs.
About Forcepoint
Forcepoint is the leading user and data protection cybersecurity company, entrusted to safeguard organizations while driving digital transformation and growth. Our solutions adapt in real-time to how people interact with data, providing secure access while enabling employees to create value.