LaLisha Hurt, Inspiring the Next Cyber Wonder Warrior
For this week's episode we catch up with LaLisha Hurt. She's the Deputy Chief Information Security Officer for General Dynamics Information Technology (GDIT) and recognized Cyber Wonder Warrior. LaLisha shares insights on the origins of - and what it means to be - a Cyber Wonder Warrior today. She's inspiring the next-generation of security leaders. She shares how focused on mission and purpose brought her to the public sector.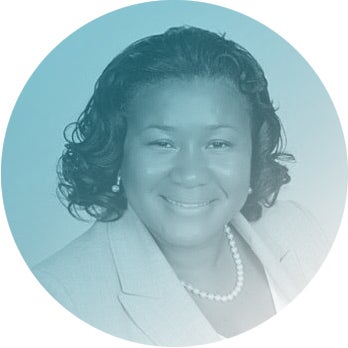 The importance of collaboration and connections for today's cyber teams, why Zero Trust acceleration is critical in the post-pandemic world. Why security pros need to take time for themselves. And, be sure to mark your calendars for the Women in Tech Summit this fall – learn more here: GDIT Women and Tech
LaLisha Hurt, Inspiring the Next Cyber Wonder Warrior
[01:50] A Self-Described Cyber Wonder Warrior
Eric: I was thinking about our planning meeting on the podcast from yesterday. I'm still very frustrated that the podcast world doesn't give you really good customer data on what customers like or don't like. It's really hard to get feedback. So I wanted to do something crazy and throw my email address out there. If anybody has words of wisdom or they want to just poke fun at us or bash us, eric.trexler@forcepointgov.com.
Eric: If you put a podcast in the link, that'd be great. It's not necessarily work-related necessarily, but we'd love your feedback. What do you like or dislike? I want to know what our customers want or consumers of the podcast.
Rachael: Feedback is nice. It's how we get better and bring on more interesting guests. Today, we have LaLisha Hurt. She is the Deputy Chief Information Security Officer for General Dynamics Information Technology. She's a self-described cyber wonder warrior. Welcome to the podcast, LaLisha.
LaLisha: I'm super excited to join the podcast. I heard so much about it from other cyber wonder warriors in the industry. So I appreciate you all having me today as a guest.
Eric: You've thrown it out there, a cyber wonder warrior. I've got visions of Wonder Woman in my mind and not 1984, which was not my best Wonder Woman movie. What do you mean there?
LaLisha: No one has ever asked me to define that before. It's something I picked up from a woman in information security, risk management and privacy conference a couple of years back. It was so impactful for me to be in the midst of other female cyber leaders across the globe.
The Event That Birthed the Cyber Wonder Warrior
LaLisha: So during a networking and social event, we were challenged to dress up as our favorite superhero. Surprisingly, or maybe not surprisingly, the mass majority of attendees, including myself, showed up as a Wonder Woman. It was quite comical, it was also empowering. For me, that term was birthed during that event.
LaLisha: When the speaker said, "Look at all of the cyber wonder warriors who decided to join us today." If I had to define it, in my own words, based on that experience alone, I would say a cyber wonder warrior as a female with cyber superhuman powers accountable for building more cyber wonder warriors.
Eric: Did you have a lasso when you went?
LaLisha: I had the whole gear. You can't be Wonder Warrior without it.
Eric: Small aside, how many cat women showed up? Is she even a superhero?
LaLisha: I guess she would be, I didn't notice. It was a thousand or so folks there and I'd say like 80, 90% showed up in that.
Eric: She might be a villain. In my mind, you're putting a visual effect with a concept and making it more tangible for people.
LaLisha: So impactful. The image still stands out in my mind today.
Rachael: I love that you guys got dressed up. There's never enough time to have a costume on.
LaLisha: It is fun. Represent what inspires you.
Eric: We should do a costume podcast or something.
Rachael: We were also bouncing around LaLisha. I don't know if you've watched the Hot Ones on YouTube. They have the hot wings that get increasingly hotter throughout. We thought maybe we'll try that one time. Not for you though, unfortunately. It gets pretty intense as you can imagine.
You Get Enough Hot Ones in Cyber
Eric: I'm sure you get enough hot ones in cyber. Where you're like, oh, I've got to deal with that today, or the new attack or the board calling you. You probably get enough of that.
Rachael: So getting back on track, you've really had a great career LaLisha. Ernst & Young, Federal Reserve Bank, General Electric. What made you want to pivot to a public sector-focused position at GDIT?
LaLisha: I've definitely been around the block here for quite some time. Most of those companies are in Richmond, which is where I'm based. But the pivot at the time for me was really more about alignment than it was about the sector. I was at a very significant crossroad in my career journey.
LaLisha: Alignment to purpose and alignment to mission were paramount for me. I read a quote the other day. It said the two most important moments in a person's life are the day you're born and the day you found out why. That really resonated with me when I read the quote.
LaLisha: When I think back to that pivotal moment personally and professionally, I wanted that greater alignment at the time. GDIT was the company that provided that. The ability to tap into over 30,000, everyday heroes that are aligned to some of the most complex government defense and intelligence projects across the country was truly fascinating to me.
LaLisha: We offer technology transformation, strategy, and mission-critical services across various platforms. With cyber being the single thread that's really interwoven into everything we do. Not only is that exciting and rewarding for any cyber leader to hear, it's also purposeful.
The Market Sectors We Support
 LaLisha: Look at some of the market sectors we support. They relate to civilian health and medical research and supply chain management. All of which are definitely top of mind for us right now.
Eric: We're spending a lot of time internally with our employees on what the purpose is. What is your aspirational goal? Why do you do this? A lot of people just look at it as I've got a job, I've got a salary. I do my job, then I go do something else. But I really do believe you've got to have a purpose.
Eric: You've got to have a driving force that says, this is why I get up and I work 110% every day. As we look to bring more women, especially into cyber, that purpose is so important. It's not just a job. What we're trying to accomplish here makes people want to do something, especially when it's hard.
LaLisha: Mission is important, but honestly for me, it's the people. I really thrive off of the ability to be able to develop and grow. To cultivate a high-performing team environment and truly developing that workforce that's diverse, that's aligned to that mission. Regardless of what company I worked for or with, that's always the center of my purpose. The mission and the people that I lead and serve.
Eric: It's not just serving the government or serving the country, it's really, whatever you're doing. You've got to have a purpose you believe in that drives you to excel every day.
LaLisha: I know it's different for other people. But every role that I've taken, that's really been the center of focus for me.
[08:45] There's No Easy Path Even for a Cyber Wonder Warrior
Rachael: Particularly in an industry where there's no easy path. We're never going to have this fresh-baked, one size fits all answer. In some ways, it helps you bond with your teams as well, because we're in the trenches together. We're going to get through this.
Rachael: You're always having to learn and challenge yourself and that's what I really love about cyber. You've been such a champion for diversity in STEM and cyber fields. We talk about that a lot here because we can use more diversity in cyber.
Rachael: Diversity in thought could really help innovate new cybersecurity solutions or new paths forward. To help us hopefully one day get ahead of the threat. I'd love to know more about the organizations you've been involved with.
LaLisha: Outspoken champion, diversity in STEM and cyber fields. You really make what I do sound exciting and engaging. In addition to family, driving that organization and industry changes to be an advocate for more diverse thoughts. Perspective and equity is truly what gets me out of the bed each morning.
LaLisha: One of the best parts of my role hands down is working with organizations, such as Girls Who Code. Black Girls Who Code, cyber.org,  Executive Women's Forum, National Black Society of Engineers, RVA Tac. The list goes on, but really, it's our role to increase STEM awareness at the K through 12.
LaLisha: The college and even professional level has really resolved in a strong cyber pipeline for us. This year, in particular. I'm excited to co-lead DAT's annual Women in Tech conference in October. So really continue that mission and advocacy in the space, especially for women in cyber.
We Have Strong Alliances
LaLisha: Additionally, we have strong alliances with universities and colleges in Louisiana, Virginia, for example. GDAT partners help shape the cyber curriculum. That leads to those internship opportunities and ultimately, those full-time roles before organizations.
LaLisha: So just to put this into perspective a bit, despite a competitive job market, last year we saw about 300% growth on our team. I really attribute that to our intentional efforts and commitments to attracting, building, and retaining that diverse workforce.
Eric: It helps you in hiring, is what we're hearing. That's the challenge in the industry depending on whose data you look at. We're 1 to 4 million jobs behind at this point. We have the jobs, but we don't have the employees, the talent to fill them. So it gives you an advantage is what I'm hearing you say.
LaLisha: Absolutely. Our partnerships really have served us well in that market. Sometimes you just have to go where the talent is. Meet them where they are and help colleges, organizations, with their curriculum and their programs. Increase that awareness to get that pipeline moving.
Eric: How do you split up your time? I have all these aspirational goals to reach out. If somebody calls me, I make time for them, almost always. I find it so hard to get out of the day-to-day running of the business. The checklist, the list of activities you have to do your own employees itself just consumes you sometimes.
Eric: How do you draw that line and say, "Okay. This is how much time I'm going to spend here or this is more important. I am going to make this important and do it. I'd love a technique or two, because I'm not good at it.
A Wonder Cyber Warrior Carves Out Time for Strategy
LaLisha: I'm still working through this myself. I do have pretty much divided my time amongst various areas. Those typically don't change, they're constant. They're your team, your people. On your team, your customer, I carve out time for strategy. Then of course I carve out time for myself.
LaLisha: That's where people forget to put in time for themselves. Typically those stay the same and I can't say that every week or every month it's the same percentage. Sometimes I shift. But making sure I carve out dedicated time in my schedule. It's really simple blocking out time. Then I'm going to focus on strategy.
LaLisha: On Fridays I focus on people. I join podcasts like this one, I do outreach, I reach out, and do work with some of these organizations. Just really being intentional around where you want to spend your time and pretty much every day, all day is customers.
LaLisha: I make sure I am listening to their feedback, understanding their needs as well. Really trying to balance and juggle all those things. But I also carve out time for myself. I know that goes without saying, but in order to be a leader, you have to find time to recharge.
LaLisha: You have to find time to hit the reset button so that you can be a hundred percent for all those other areas. I do bike rides during the day, I do yoga in the morning before I start my day. Then I intentionally carved out breakfast, lunch, and dinner with my family.
LaLisha: Small things, I always say are simple. But, they truly make a difference in how we show up for all the other areas of our focus.
The Cyber Industry Is Really Intense
Rachael: In the cyber industry, it's really intense. I've seen stats somewhere. The average CSO tenure is 18 months, it's high burnout rate. It's a problem we can't solve, but it's a mission that you're just so passionate about. If I could just work a few more hours, I could get this thing done.
Rachael: But then we realize you burn out and then that's not really much of a help either. I love that you're saying take time for yourself because it's something I have to remind myself to do. I got a Peloton and I just looked at it. I've ridden it like four times in the last year.
LaLisha: That is so awesome that you have one. Mine is coming next week. I'm super excited about it. So we'll have to connect and see if we're taking the same classes or not.
Rachael: It's so easy to use. You have so much variety and especially for folks who've been out of the gym for five years like me.
Eric: But have you ever ridden in costume?
Rachael: That's a great question. I don't think I have.
Eric: Opportunity. It's knocking.
LaLisha: I love it. You guys got to show me pictures if you do that.
Rachael: That would be amazing. You know what? I have a Wonder Woman costume that I've had for a few years, I could dig it out. They had the boots and everything. It was amazing.
LaLisha: Another cyber wonder warrior.
Rachael: You're hearing a lot about zero trust, particularly in the last year. People working remotely then you see these things like the Solarwinds attack. It was a very aggressive and broadened scope.
[17:03] Zero Trust Has Become a Big Thing
Rachael: Then we're also seeing this ransomware, $50 million ransomware, exploits that are just mind-boggling. So no wonder zero trust has become kind of a big thing. What do you think about zero trust? Why do you think we need to accelerate it?
LaLisha: That's a great question. I heard from a little birdie this is your favorite topic powered by Cloud. I'm interested in your perspective here as well. We've been talking about zero trust for quite some time now. The reality is this past year alone has shown us that accelerating implementation, not only for government agencies.
LaLisha: But, really for all of us, it's so critical to the success of how we deliver and how we show up for our customers. We rely obviously on technology for everything we do. Whether it's interconnected applications or cell technologies or mobile devices. People are now accessing IT resources and data from their homes.
LaLisha: Implementing that never trust, always verifying principle, has to be part of the overall cyber strategy going forward. That is, if we want to continue to deliver the mission success for the business. I definitely agree it's accelerated.
Eric: Do you feel that when you talk zero trust, a lot of people know what it really means? We've seen, in my experience, the Navy has a zero trust strategy. The Air Force does, NIST has its guidelines. ACT, IACT put some stuff out a couple of years ago. Every customer seems to have a different slant on it.
Eric: I tend to sit back, wait, and say, so help me understand what you mean by zero trust. Then wait for them to articulate it because it's very different to some people.
The Misconception About Zero Trust
LaLisha: The thing I hear a lot and the misconception here is people like to think zero trust is a technology or a product. But, really, it's a strategy or a principle. We've typically aligned to this. They give you really good guidelines. Followed by the strategy is the implementation, which includes the products and technology.
LaLisha: I hear a lot of people talk about zero trust and they lead with technology and products. It is basically that principle and to use it. It's like before you connect to any network or device, we need to verify and validate you, it's that simple. If you start there with the strategy, the principle, and then you start to pull back the onion, say, okay, how are we going to achieve this?
LaLisha: The how may look different across companies, across the industries. That's where it might get a little bit different in terms of implementation approaches and methodology, depending upon the how. There's a couple of ways you can obviously do that.
Eric: I see a tremendous variety of interpretation in situations where customers are just in different phases of their evolution.
Rachael: Part of it, the other piece of cyber that I'm really fascinated with is how do you get rid of the friction. We look at innovation and kind of where cyber can go. I envision this world of cyber ubiquity. It just works. I don't have to come up with junky workarounds to do my job. By the way, our CTO was giving me a workaround for getting on Teams.
Eric: Meaning you haven't gotten on Teams yet and they want you to or?
Rachael: Well, on the GovTEAMS site, there's a way around where I can get to it.
How the Cyber Wonder Warrior Improves the User Experience
Eric: Let's go back to it's supposed to just work. Ubiquity.
Rachael: It's supposed to just work.
Eric: Like electric.
Rachael: That opens the door for innovation. There are so many little areas where we could improve the user experience. I'd be interested in your perspective there. How do we make it better for the end-user? What does that look like?
LaLisha: We have to acknowledge the zero trust is definitely playing a critical role in our new normal. It has to. We all recall that day when agencies had to, within a week, shift their workforce to remote. All while dealing with cyber threats. It was indeed a disruptor for many. You mentioned friction, it's a disruptor.
LaLisha: In some cases, there were data overloads, increased use of VPNs or resource utilization issues. With any IT digital modernization or big organizational shift, such as the one we all experienced last year. There's always going to be growing pains with that.
LaLisha: But if we fast forward to where we are today, we can all agree. Our employees can essentially work anywhere as long as there is a zero-trust strategy in place to enable that business. We learned a lot this year and we accelerated a lot in the innovation space as a result. Definitely in the cyber world. Even we see that in the government agencies, just to be able to respond to what's happening around us.
Eric: Were you surprised how quickly government agencies were able to pivot. We're really talking like March 16th of 2020. They started to say, okay, we have a problem we need to deal with. But were you surprised at how quickly government agencies were able to pivot?
Impressed but Not Surprised
Eric: You expect that from the banks and others, but state and local governments, federal governments. Smaller organizations who aren't prepared, that maybe they don't even have a VPN or the concept of work from home.
LaLisha: I would use the word impressed. I don't know if I was surprised. A lot has to go into making this happen. Alone for GDIT, we have over 30,000 employees. So shipping them home was not an easy task, but we were able to do it. But we were prepared for it.
LaLisha: In some cases we had the technology to support it and in some cases we didn't. But we quickly partnered with the right folks to help us get there. A lot of folks in the government agencies reached out to us to help us accelerate. It was really an impressive collaboration and partnership, to be able to make that happen.
LaLisha: The collaboration tools or platforms that we're using were rolled out instantaneously. To be able to support the remote workforce. It goes to show that if your partner works across industries, across technology partners, it's amazing what we can do in difficult times together.
Eric: Let the record state, I was surprised, I was blown away and then impressed. Almost encouraged that I'll just speak to America, not the globe, but even the world. People could come together with hard problems like that and solve them very quickly.
Eric: Get economies back together, businesses. With lots of challenges obviously. Think about everything that's happening. How organizations just figured it out. I was very encouraged, but I was surprised.
LaLisha: A lot of people were. Being in the cyber world and working a lot with these government agencies, I'm aware of the capabilities we have.
[24:50] What the Cyber Wonder Warrior Calls as an Opportunity
LaLisha: This pandemic, which I like to call an opportunity, just brought it out for everyone to see. Super impressive, joint effort, I would say across the board.
Rachael: We see this a lot in the US, probably everywhere, but the forcing function. When something kind of catastrophic happens, then we pay attention to it. I believe cybersecurity spending was up last year, what, 20%? So really healthy margins because you had to address these issues.
Eric: I'll speak for the vendor community. Healthy market, I don't think most people improved their margins, but the market was healthy. I don't want people to pretend like there's profiteering going on.
Rachael: Not at all. But I mean, we know security teams. They were getting additional dollars because they needed them to accelerate to the cloud to support this remote workforce. We always kind of talk about the bottom falling out. When are we going to try to start investing in infrastructure, all of these other things.
Rachael: It's a great opportunity because we saw just what we can get done. How quickly we can get done when you have to. I always almost wonder, do we need to keep that mindset? That way we can kind of continue moving forward in cyber to get ahead of the threat? Or as we like to say, left of loss.
Rachael: Biden has an executive order coming up soon that may touch on some of this. In terms of notifications and breach disclosures. But also looking at maybe investments or infrastructure, or maybe that Chris Krebs op-ed in the Hill. He was talking about investing in digital infrastructure.
What the Pandemic Forced Us to Do
Eric: They're definitely going to, but one of the things we've seen is the pandemic forced us to focus. I do a lot of thinking, studying, and reading around management and practices. But it really forced us and gave us the excuse almost in some cases to say no to things.
Eric: You could go to somebody else in the business and say, I can't help you right now. I must do X because of COVID-19 because of the pandemic. But it really allowed us to focus on what we need to do, deprioritize totally what we just can't do. There's a lesson in there. The prioritization component allows you to really get stuff done, where we just get overwhelmed.
Eric: I know I do, overwhelmed with the noise and the waves just hitting you all day long. Everybody's asking for things. It was easier to say, this is my mission, and people respected that. I don't know if you saw that.
LaLisha: I'm one of those that had this nice, pretty ball on my strategy that I put together last year. All these great things that I'm going to do in 2021.
Eric: How did that work?
LaLisha: I don't know where their strategy is right now. As you said, it forced us to focus on the mission. Some of our customers came to us asking for assistance with this global pandemic. We stopped, dropped everything, rightfully so, to support the customers, but also supported the greater mission.
LaLisha: I love to find where my strategy that I put together last year is for this year. Just for a good laugh, because a lot of things that were on that list are probably at the bottom of the list.
The Number One Priority of the Cyber Wonder Warrior
LaLisha: Moving the workforce home safely was priority number one. Followed by supporting some of the vaccine efforts that are underway now. It was right up there as well. I'm going to try to find that just so I can see what I was supposed to do this year.
LaLisha: Compare it to what I'm actually doing this year. That would be a real perspective to have. How things can change and how you have to be flexible enough to respond to what top priority at the time.
Rachael: Prioritization, something I struggle with sometimes, yes. It's hard to say no.
Eric: I would argue even when you're not forced to prioritize. If you can force yourself to prioritize, once you focus on a team or a work-stream on something, you can get a lot done. You become so efficient.
Rachael: Something to work on one of these days.
Eric: Am still working on it.
LaLisha: Work in progress.
Rachael: I need to prioritize my to-do list for my personal life and my professional life with all these great ideas. It's taking that time out, just having time to kind of enjoy the moment. We are moving so quickly and it's amazing. If you could just take that little bit of time out, how much more focus you can get.
Eric: I'm a photographer on the side, for fun only, not business purposes. But the idea of a snapshot allows me to capture a moment. I can look at the photography on my wall and I know exactly where I was. The timeframe and who I was with and what I was doing.
Step Back and Appreciate
Eric: It's like a reminder almost if you can step back, and take that moment to appreciate it. Just capture that picture in your eye, in your mind. You can appreciate all that we accomplished last year and all the good that came out of a really pretty crappy year.
Eric: So COVID-19 pandemic, we had the SolarWinds. Call it whatever we want to call it again, attack in December, opened up. What was the biggest thing you thought about it? I mean, it was a pretty tough year. What was the biggest surprise or, I mean, what did your biggest learning maybe from a rough year that you observed?
LaLisha: As it relates to SolarWinds, or just really in general?
Eric: Just in general, in the world of Infosec. You talked about that strategy you had in January coming into the year. Or maybe prior to January coming into 2020. The whole world gets shaken up.
Eric: You go into emergency operations mode with your team. You're doing great work, but any great learnings. Wow, I'd never thought I'd experienced that. If I only knew that you'd share with the audience.
LaLisha: I'll give you a personal response and then a professional one. So personally, it forced me to carve out time for myself. We're at home. For me personally, I didn't realize that I could hike as far as I could or bike as far as I could.
LaLisha: I can put together puzzles. I learned a lot about my family and my friends. We were spending all this intimate time together that we might have taken for granted collectively. I traveled at the time pre-COVID probably 40, 50% of the time. Everything was hustle, bustle, and move fast.
[32:44] Capture Cyber Wonder Warrior Moments
LaLisha: To your point about being a photographer. I don't know that I necessarily pause to capture all of those moments. So personally, it forced me to slow down and appreciate those moments. It's something that I plan to continue.
LaLisha: So that was really aha for me personally. Professionally, I didn't realize the true value that a collaboration connection can have on an organization and on a team.
Eric: What do you mean by that?
LaLisha: We took for granted the fact that we were in office, where you had work or a talk. We're doing happy hours and dinners, and that teaming really had a big part in productivity. People feeling connected, people feeling a part of the larger mission and purpose. What I learned is we had to get creative and innovative about how we do that now in a remote environment.
LaLisha: The big aha for me is I am super impressed with how creative people can get, to keep connected. Whether it's at work or whether it's at home. People are doing virtual workout sessions. People are doing virtual happy hours at work.
LaLisha: People are getting really creative. We're all probably fatigued with Zoom and then some of the collaboration tools. I don't think we truly understood the impact it can have on people not being in the office. Not feeling connected or not having those impromptu hey, let's go grab a beverage right after work. I think people miss that.
LaLisha: People are aggressively and anxiously looking forward to the day that we can do that again. While we're still being productive, I do see a big impact on people that are missing that currently.
Coming Together as a Leadership Team
Eric: We came together as a leadership team this past Monday. It's been about 13 and a half, 14 months since we got together. A small group of us vaccinated, wore masks and everything, in-person though. It was really good. I savored as much of the moments as I could to be working together.
Eric: You could see some of the old habits or benefits of being in person, just as societies, as people have to interrelate. It was interesting to watch now that we have a year of Zoom. We can compare and contrast or Teams or whatever it may be, it was really interesting. But then, it was also tiring. We're using different muscles that we haven't used for a year.
Eric: We had meetings, we had sessions that would go an hour and a half, an hour and 45 minutes. Even though you're Zooming all day long, you get tired. You just wanted to get up and move or go to the bathroom. Get a drink, or just task-switch for a second. It was really interesting, but it was good to get back.
Eric: Really connect in person, even though a lot of people have done really well, connecting virtually. It's still good to see people. At the end of the day, we're all people and we're all here for a purpose. It's easier to work with people and build relationships in person.
LaLisha: Good for you guys for being able to do that. We're working on that as well. I'm interested to see the dynamics of having to go through the motions of getting dressed and commuting in and sitting through. Connecting with your colleagues, it'll be different for us. I'm interested to see how that unfolds.
The People Dressed Down
Rachael: I don't know if I could wear dress shoes anymore. I've been in flip-flops for the last year.
Eric: I'll tell you an observation was, and we're a tight senior management team. But people definitely dressed down compared to what we did in the past. It was all jeans. I didn't even wear it anywhere, but I wore a polo one day, a button-down the other.
Eric: I was probably the more formally dressed with the button down on. Things have changed. We will see significant change in addition to people not wanting to be in the office all the time.
Rachael: We need change in the work environment. For so long I remember working at a very large technology company that built their business on the internet. Ironically enough, they wouldn't let you work like telework. It wasn't an option and I'm like, I'm always traveling to New York City. Literally on a plane constantly going back to New York. Let me just work from New York.
Rachael: No, not an option. Now flash forward, the government's teleworking, which you would never have imagined. It also opens a door for all of these great new talents that you could source from different States. Maybe they didn't want to live in DC, or the Virginia area. I like that. We needed to shake up the business environment. It was really time.
Eric: I have a lot of employees that are moving to remote parts of the country. I'm just looking at the operational expense challenges. The travel challenges on that. Maybe I'm just old school, but I don't know.
The Quality of Life Has Changed for the Cyber Wonder Warrior
Rachael: Quality of life. I'll say working from home, tell me if you feel the same way. I can actually do laundry during the week. If I have a lunch break between meetings, I can do laundry. Whereas before, because I'm in the office so many hours. You're a hard worker, too.
Rachael: I'd have to save all of my chores for the weekend and then that's all you do. Go to the grocery store, do your laundry, and do all those things instead of actually having some real downtime. So saving on that commute time, for quality of life, has been fantastic.
LaLisha: We've polled some folks as well. I've seen some studies out there, where people actually appreciate that flexibility. To be able to flex their time or have those options where if you start your day early, you can work in some things that you need to get done and then top on later.
LaLisha: For people, that has been top of mind. Especially for those that have children that they're homeschooling. That flexibility is so necessary in that work day for those that are working from home.
Eric: Well, that should. Theoretically, that will open up opportunities for a lot of people who didn't have childcare. Or had to live somewhere because a child had to go to a special school or their spouse had a job somewhere. They didn't have that flexibility where they could come into the workforce.
Eric: Bringing it full circle back, hopefully that allows that diversity of employment, which leads to the diversity of thought. Because what will engage more of the workforce or potential workforce.
[40:27] Opening More Doors
LaLisha: From a hiring perspective, it opens up more doors too for companies to hire and location may not be an issue. Folks don't have to approve their families and relocate to a totally different state. They can do exactly what they need to do from wherever they are.
LaLisha: So for us, we're seeing a greater pipeline now. We're able to reach out to where people are and have them join. As long as they have internet connection and laptop and equipment, you can be successful anywhere.
Eric: I'm definitely rethinking my hiring profiles with my teams. Because the traveling expense may be higher, but how do we compensate? Do we get a better quality of workforce, do we have happier employees which lead to more productive employees? There are a lot of variables and I don't know what the answers are. We'll figure them out over time.
Rachael: I do have an opening on my team, and it can be remote. So if anybody's interested. Shameless plug. I know we've kind of run long today. It's been so much fun talking to you, LaLisha. I just want to wrap up with my favorite question. The cyber path ahead, optimism or no?
LaLisha: Oh, definitely optimism. I'm a person that thinks from a glass-half-full perspective. I know we talked a lot about the pandemic and what happened in the year. But it's really spearheaded a lot of innovation. It's really a lot of things that we wanted to do and probably should have done. I just see so many more opportunities. Like people's mindset, is in that space of being innovative and driving forward.
What the Cyber Wonder Warrior Is Optimistic About
LaLisha: If we can continue that moment, our strategies are going to look different now, as a result. I'm definitely optimistic about what's to come. In the cyber world, every day is a new day. I'm hopeful that this year has shown us that we can be resilient. And as long as we partner together, we can conquer the world and be cyber wonder warriors as we look into the future.
Eric: We sure need them.
Rachael: That was a perfect ending. I'm scared to say anything else. I'm going to ruin it because she has such a great message. Thank you so much for joining us today. It's been so wonderful speaking with you.
LaLisha: This was so much fun. It's a great way to end the workweek. So, thank you very much and I look forward to the future episodes here.
Rachael: Have a great weekend and to all of our listeners as always, please be sure to subscribe. Give your feedback to Eric. Eric gave you his email address earlier, and you can get a new episode every week, right to your email inbox. We're always on the hunt for new ideas of things that you want to hear. So, be sure to give us a jiggle. Until next time, take care.
About Our Guest
LaLisha Hurt, CISA, CGEIT, CRISC currently serves as the Deputy Chief Information Security Officer for General Dynamics Information Technology (GDIT). In her role, she is responsible for managing cyber operations, engineering. Intelligence shared services for customers across federal, state and local agencies within GDIT's Technology Shared Services organization.
Prior to joining GDIT, LaLisha spent the last 20 years in various IT risk management, IT governance.  Cybersecurity leadership roles at companies such as Ernst & Young, LLC, Federal Reserve Bank of Richmond and General Electric. Cyber Wonder Warrior by profession and systems engineer by academia.
LaLisha has her Bachelors of Science engineering degree from the University of Virginia, a MBA from the University of Baltimore, and a Masters in Information Assurance from University of Maryland University College. She also completed Carnegie Mellon's Chief Information Security Officer Executive Program in 2017.
LaLisha has a successful track record of driving organizational change, building high-performing teams, spearheading cost savings initiatives, and has a strong passion for developing a diverse cyber workforce.
Listen and subscribe on your favorite platform