Data Security Everywhere: Forcepoint Scales its World-Class Data Security to More Channels Through Forcepoint ONE
Apply DLP policies to CASB and SWG in just a few clicks
Today, we're extending the award-winning data security that many of our customers rely on into more channels through our Forcepoint ONE SSE Security Service Edge (SSE) platform. This integration extends Forcepoint's Enterprise DLP to cloud applications and to the web. This means existing customers can apply all DLP policies across CASB, SWG and ZTNA channels in just a few clicks.
Forcepoint launched Forcepoint ONE SSE last year and was recently recognized as a "visionary" SSE provider for the second year in a row.  We're leveraging Forcepoint ONE to extend data security into more channels. Today's introduction means customers can add Forcepoint ONE SSE channels to their Forcepoint Enterprise DLP with just a few simple clicks, Once deployed, it allows organizations to manage SSE channels from within Forcepoint Enterprise DLP's Forcepoint Service Manager (FSM).  
Beyond more channel coverage, security professionals also know that data policies are a critical part of the equation. Many of our customers have deployed hundreds of policies – a combination of the over 1600+ out-of-the-box policies/templates/classifiers plus the custom ones they created to meet specific business needs.  Today's introduction means our enterprise customers can apply those hundreds of data policies into new SSE channels with just a few clicks.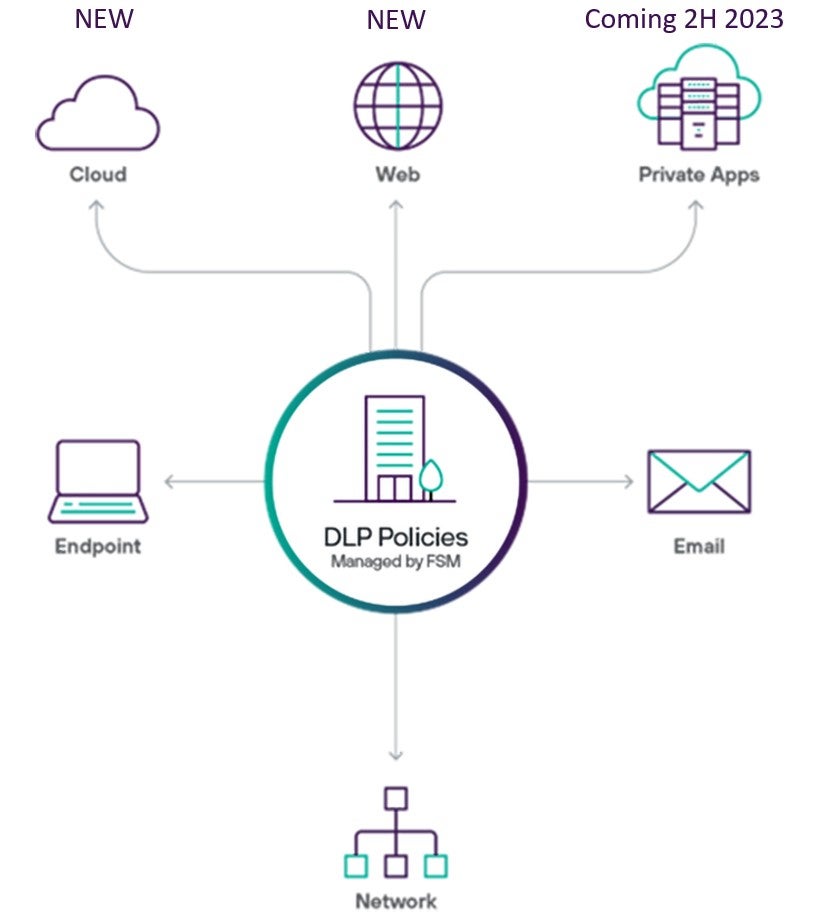 Forcepoint Data Security has been on a roll lately. Did you know that it was recently recognized as a "Leader" by the Forrester Wave™:  Data Security Platform Q1 2023 and also as a "Top Player" by the Radicati Group: DLP Market Quadrant 2023?  We were recognized for our ability to provide a holistic approach to data security and delivering a data-centric approach for Zero Trust.  If your organization already has deployed Forcepoint data security, that third-party validation should make you feel good about your investment. This announcement strengthens our position as a holistic data security provider even further.
 
A data security solution is only as good as the channels it protects
A robust data security solution is one thing, but only if it extends into all the channels your business relies on. Any of our customers that have only deployed Forcepoint DLP at the endpoint are missing out on a holistic data security solution by not including security across key SSE channels. Modern DLP deployments require coverage across multiple SSE channels—CASB for cloud applications, SWG to protect web traffic and ZTNA for protecting web-based private applications. SSE channels covered through a leading DLP solution enables organizations to avoid expensive data breaches and to maintain regulatory compliance in today's complex security environment. 
When it comes to deploying solutions, security professionals know that reaching time to value is more important than ever. And this is especially true when selecting an SSE platform. When it comes to data security, organizations spend lots of people and time resources creating data policies to protect their organizations critical assets. In fact, a customer recently told us that rebuilding all of their custom data policies into a competitive CASB DLP solution would take several months.  Analysts tell us it can take even more time – as much as a year to completely replicate all of the policies when seeking to migrate policies to a new DLP. 
Apply data policies to extended channels and manage them too
This is where our Data Security Everywhere approach makes a huge difference. Now you can deploy a Forcepoint ONE CASB and/or SWG (ZTNA coming 2H2023) with your Forcepoint Enterprise DLP with just a few simple clicks. With Forcepoint, it's immediate—not 3 months from now and certainly not a year from now. It's now.
You will have access to all your organizations' policies immediately, all managed from within the Forcepoint Security Manager (FSM).  That centralizes things. Now, you can manage all of those channels (endpoint plus CASB, SWG, ZTNA, email, network) directly from your FSM policies—one policy covering all channels.
It also means you have a single portal to manage DLP incidents and forensics. Instead of managing two (or more) separate DLPs, you can continue to manage your industry leading Enterprise DLP and your SSE channels the way you are accustomed to—all within minutes. This time savings alone can amount to hundreds of thousands of dollars. Most importantly, it will also save your organization much more in terms of preventing data loss in today's complex security and compliance environment.
To see the power of Forcepoint Data Security Everywhere and how you can be up and running in a few simple clicks, watch this video:
Request a demo today and see how you can expand the power of your Forcepoint DLP Endpoint investment to cover all of your cloud, web and private application needs.
About Forcepoint
Forcepoint is the leading user and data protection cybersecurity company, entrusted to safeguard organizations while driving digital transformation and growth. Our solutions adapt in real-time to how people interact with data, providing secure access while enabling employees to create value.