Ponemon Survey Results: US Federal Cloud Adoption
In 2017, reaffirming the commitment to the cloud, the Executive Order on "Strengthening the Cybersecurity of Federal Networks and Critical Infrastructure" calls for agency heads to show preference in their procurement for shared IT services, to the extent permitted by law, including email, cloud, and cybersecurity services. Under this directive, agencies are continuing to prioritize cloud computing initiatives as part of their IT modernization plans.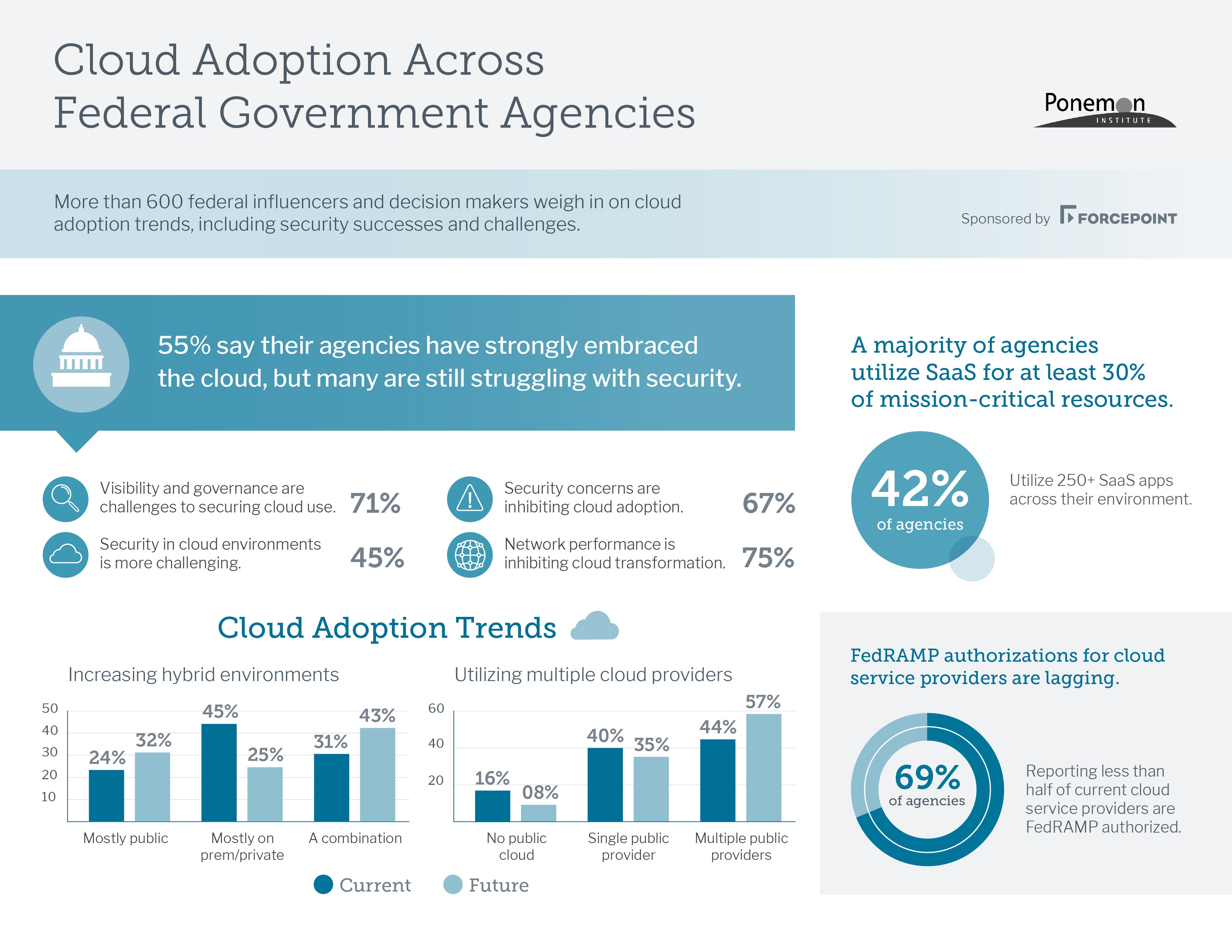 Click here to download the above infographic.
Two years following the Executive Order, in partnership with Ponemon, Forcepoint surveyed cloud influencers within federal agencies to find out more about current cloud adoption trends across federal government to determine where agencies are having successes and what problems they are encountering, especially as it relates to securing the cloud. Among the results, the survey found:
Federal SaaS adoption is growing and important to agency
Security concerns are inhibiting Federal Cloud adoption
Shadow IT and non-FedRAMP-approved cloud providers are pervasive across agencies
Leverage this report to discover where your agency cloud adoption stands compared to your peers and determine if there are any trends or insights you should take advantage of -- or be aware of -- as your agency plans your future cloud adoption.
Read the full report to see the results of the Ponemon research to learn about Federal cloud trends, insights and plans for cloud usage and migration in government.
About Forcepoint
Forcepoint is the leading user and data protection cybersecurity company, entrusted to safeguard organizations while driving digital transformation and growth. Our solutions adapt in real-time to how people interact with data, providing secure access while enabling employees to create value.