Forcepoint Web Security Cloud (formerly TRITON AP-WEB Cloud)
Delivering premier cloud security to protect users and data everywhere
Robust Protection for Users—Wherever They Go
Advanced threats involve sophisticated, multi-stage attacks with built-in techniques that evade detection while stealing your sensitive data. Insider threats—such as employee theft and internally accessed malware—are just as damaging as external threats.
Forcepoint Web Security Cloud provides industry-leading reporting, sandboxing and DLP capabilities, and stops more advanced, non-signature threats to your data than any other solution – including Blue Coat, Cisco, and Zscaler. Forcepoint Web Security Cloud is built on a unified platform that enables Forcepoint products to work together, and protects data everywhere– in the Cloud, on the road, in the office – simplifying compliance and enabling better decision-making and more efficient security.
Adopt Industry-Leading Protection Against Advanced Threats and Data Theft
Advances in cloud technology have given organizations increased flexibility and rapid collaboration capabilities. In order to reap these benefits, your organization must streamline security with an intelligent, cloud-first solution that protects in real-time and that will enable your long term mission and protect your reputation.
Forcepoint Web Security Cloud provides in-line protection against advanced threats that use sophisticated detection evasion techniques to steal sensitive data, as well as insider threats such as employee theft and malware. Forcepoint Web Security Cloud is a proven leader in SaaS web content security, stopping more advanced, non-signature threats to your data than any other solution.
Easy to use dashboards
See threat levels, productivity and bandwidth in an instant
Drill-down for quick analysis

Reporting
Over 80 predefined reports
Create infinite custom reports by drag and drop of 70 attributes
Optional extended reporting history for up to 18 months to support Regulatory & Compliance requirements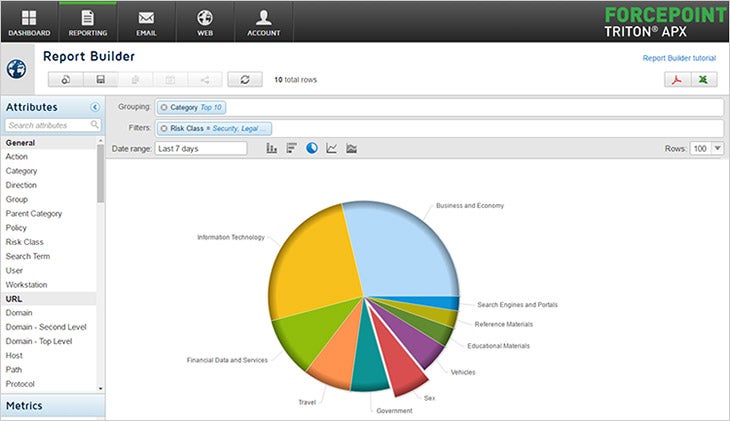 Integrated Cloud Sandbox
Real-time code analysis for Advanced Threat identification.
Safe execution of suspicious code away from your network resources
Integrated Threat Intelligence
Provides input from over 155 countries into Forcepoint Cloud Web Security
Average update rate of 3.2 pieces of threat intelligence every second
I need to protect my roaming workforce
Do your employees commonly work inside third party networks or behind national firewalls? Signature-based antivirus products can't provide the protection of Forcepoint Advanced Classification Engine (ACE) and Forcepoint ThreatSeeker Intelligence (formerly ThreatSeeker Intelligence Cloud) for real-time protection. Forcepoint's exclusive Direct Connect technology enables organizations to enforce usage policies and protect roaming users operating in any network, reducing downtime, while delivering superior performance to increase employee productivity and protect your organization's reputation.
Learn About Forcepoint Web Security Endpoint (formerly Triton AP-Endpoint Web)
I have remote offices and guest networks to secure
Your goal: to provide protection to all of your remote offices without the headache of backhauling traffic back to your main DC. With flexibility to protect guest networks as well. And because branch offices don't have dedicated IT staff it can't require additional overhead to support more than simple break fix. i-series appliances are your on-ramp to security, giving you the balance of high performance and cloud manageability that you want from an intelligent appliance.
My organization is looking for a SaaS gateway solution that is truly secure
Looking for a cloud gateway that scales to provide protection of web, email, and cloud applications with DLP to protect your organization from potential fines? One that has a global presence with a cloud trust program that invests in ISO, CSA, and FedRAMP certifications? Forcepoint cloud can protect your organization from the inside out.
Add ons
Your workforce relies on their iOS and Android devices to stay productive even when they're on the move. To protect your critical data, you need assurance that their mobile device use remains secure. Forcepoint Mobile Security (formerly TRITON AP-MOBILE) delivers this capability for your organization. Forcepoint Mobile Security works with your mobile device manager (MDM) to provide protection to mobile devices. Its data-aware defenses protect against malware, phishing, malicious links and the theft of intellectual property.
Forcepoint Advanced Malware Detection identifies today's evasive malware - with zero false positives - to prevent crippling breaches and shift the focus of incident response teams on actual threats.