Forcepoint Cloud Network Firewall Receives AAA Rating from CyberRatings.org
With excellent security and performance, this product is a worthy contender and should be considered by enterprises."
CyberRatings.org put our virtual NGFW software through the wringer, throwing nearly a thousand exploits and several dozen evasion techniques at it. We stopped every single one of them. Even when extra background networking was placing additional loads on the system. Of course, we passed all of their stability and reliability tests. And, they hailed our throughput as "excellent" (their report shows how we delivered sustained performance across a wide range of packet sizes).
As shown below, their report focuses on five areas: Management & Reporting, Routing & Policy Enforcement, SSL/TLS Functionality, Threat Prevention, and Performance. In each of the areas, our management console (which they note "offers a full set of functionalities for power users") and our firewall engine received very high ratings. Their report gives details for each section as well as a 3-year total cost of ownership analysis that you can compare to other vendors' reports.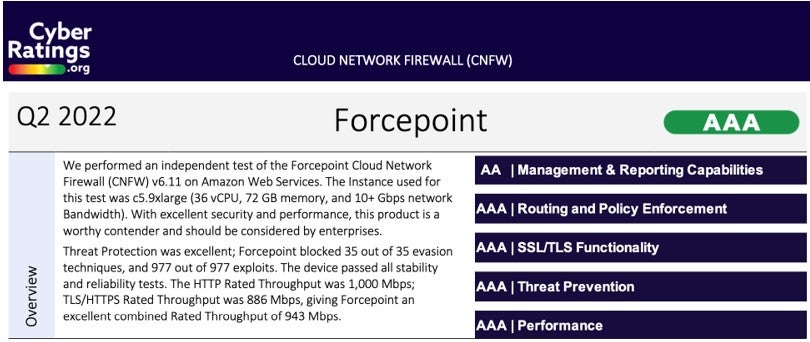 We're pleased, of course. But not surprised. Our next-generation firewall technology, with its built-in SD-WAN networking and intrusion prevention security, is used around the world to connect and protect highly distributed organizations, from retailers and health care facilities to schools and government agencies. In addition to being highly scalable (we have numerous customers with thousands of sites managed from a single pane of glass), our firewall software takes advantage of the built-in AES-NI ecryption instructions in Intel processors to deliver high performance everywhere, in physical appliance and cloud platforms.
As the CyberRatings.org independent tests show, you can have it all—scalability, security, performance—in cloud-based network security.
Want to see for yourself? Download the report (no registration required).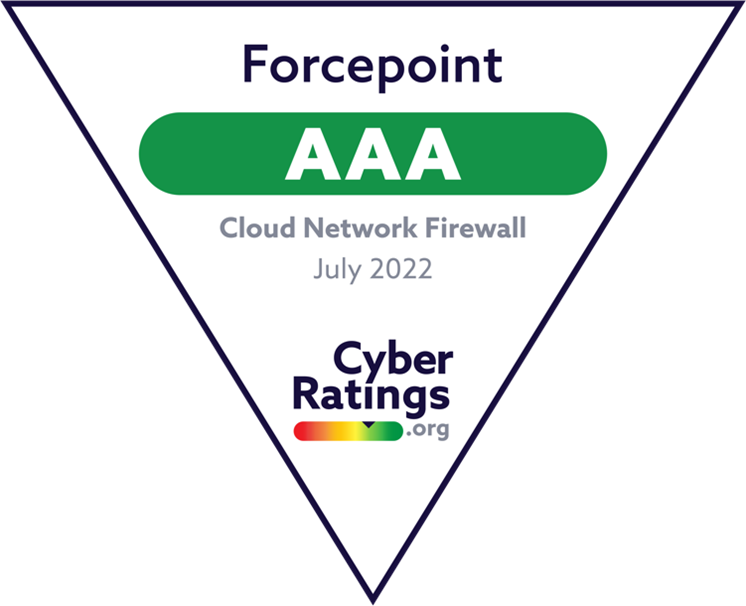 About Forcepoint
Forcepoint is the leading user and data protection cybersecurity company, entrusted to safeguard organizations while driving digital transformation and growth. Our solutions adapt in real-time to how people interact with data, providing secure access while enabling employees to create value.